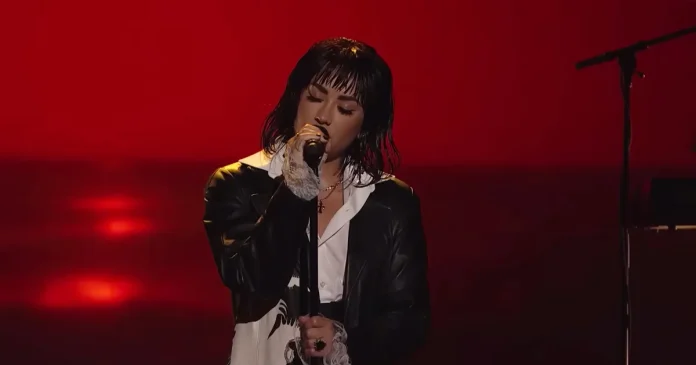 DISCLAIMER: On May 21, 2021, Demi Lovato came out as non-binary, going by them/them pronouns. But in April 2022, Demi updated their pronouns to include she/her. For this piece, I will refer to Demi using she/her pronouns. 
For many, Demi Lovato is not an unknown name. Starring in Disney Channel favorites such as Camp Rock (2008), Camp Rock 2: The Final Jam (2010), and Sonny with a Chance (2009-2011). Even after leaving Disney Channel, her music has continued to play worldwide, with hits like, "Give Your Heart A Break", "Heart Attack", "Cool For The Summer", and many more. With all of these charting songs, it seemed like pop was Demi's true calling. But in January 2022, Lovato posted on Instagram that she held a "funeral" for her former pop music, with a picture of Lovato with label and management executives all wearing black and Lovato holding up two middle fingers. This was later clarified to be a music label meeting and the fact everyone was wearing black was simply a coincidence. Still, Lovato had felt it was a symbol of change for the direction that her music was taking. That first change came with the release of her single "Skin Of My Teeth" on June 10, 2022. Followed by singles "Substance" (July 15, 2022), and the most recognizable single from the album "29" (August 17, 2022). These 3 singles along with 13 other songs make up Demi Lovato's eighth album, Holy Fvck. 16 songs in total, 3 of them being collaborations with other artists make up this 48-minute masterpiece. Released on August 19, 2022, many fans will recognize her most popular song from the album, 29, from popular Tik-Toks. 
The first song on the album, "FREAK " featuring "YUNGBLUD", can be described by the carnivalesque goth-rock guitars and bursts of industrial glam and hardcore that ​​find Lovato bewailing her status as a "piece of meat" carved up for entertainment, featuring the lyrics "came for the trauma, stayed for the drama." "SKIN OF MY TEETH", is about an immediate sense of urgency, opening with two snare hits and some chord strumming after which Lovato begins to sing in a sardonic vocal tone. "SUBSTANCE" features Lovato singing loudly over guitars and drums inspired by the earlier years of punk music. The lyrics presented in the song are a direct criticism of contemporary society and evoke Lovato's previous drug-related and mental health problems. "EAT ME", featuring Royal & The Serpent, is the album's fourth track. This song "swivels the target from herself to the industry that shackled her to their lucrative expectations." "Be more predictable, be less political, not too original, keep the tradition but stay individual," she groans, "I know the girl that you adored, she's dead, it's time to f****** mourn… you'll have to eat me as I am." The fifth track is the album's title track, with lyrics of "biblical imagery" that "alludes to sex so good that it feels sacred". The sixth track 29 features lyrics referring to age gaps in relationships, with media speculation that Lovato's ex-boyfriend Wilmer Valderrama is the subject of the song. "HAPPY ENDING" has Lovato confessing that "I miss my vices", and "demons are calling and tearing me to shreds". The eighth track "HEAVEN" is an "industrial goth-rock" song that features a "glam drumbeat". In an interview with Los Angeles Times, Lovato states that the song's lyrics are "actually based on a Bible verse" further explaining, "Matthew 5:30 says, 'If your right-hand causes you to sin, cut it off it's better to lose one part of your body than your entire body to hell.' Masturbation can be a form of self-care, it's not something to be ashamed of at all. "CITY OF ANGELS" is Holy Fvck's ninth track with sexual innuendo-based lyrics featuring "Lovato imagin[ing] 'christening' a wide array of Los Angeles landmarks from the Viper Room to Splash Mountain". The tenth track, "BONES", has Lovato's purring chorus that begins with the no-nonsense declaration "Let me jump your bones". "WASTED" is a personal favorite of mine. With lyrics referencing being high on a relationship with beautiful chords. "COME TOGETHER", the album's twelfth track is a pop-rock song that "excellently blends the singer's two most prominent sounds into an explosion of euphoric expression. A masterclass in using production to your advantage, the song leans back when it needs to let a blast of joyful noise wash over you on the infectious chorus." "DEAD FRIENDS", the thirteenth track was said by Lovato in an interview with British Vogue to have originally been "a slower song, but I ended up turning it into a faster one. I wanted to pay homage to the friends that I missed while keeping it upbeat and a feel-good homage to them." "HELP ME" featuring Dead Sara is the fourteenth song and it is the most screamo in my opinion. It is not my favorite but it is an experience to say the least. The fifteenth track "FEED" starts as a piano ballad before it bursts into a raw celebration of self-actualization and determination. "I decide which one to feed" becomes a simple yet persuasive mantra amid chaos." "4 EVER 4 ME" is Holy Fvck's sixteenth and final track which "wraps Lovato in acoustic chords and bittersweet strings as they sing to a new partner about wanting to meet his mother."
To wrap up this article I wanted to give my final thoughts and provide some of my opinions on the album. All in all, I personally love this album. One of my best friends and I sat down one day and listened to each song one after another and ranked each one out of 10. We had a whole slew of 10/10's but our top favorite was of course 29. However, we had other favorites like "CITY OF ANGELS", "HAPPY ENDING", and "DEAD FRIENDS". To be completely honest, we had 9 favorite songs. I highly recommend that you listen to this album and form your own opinions!