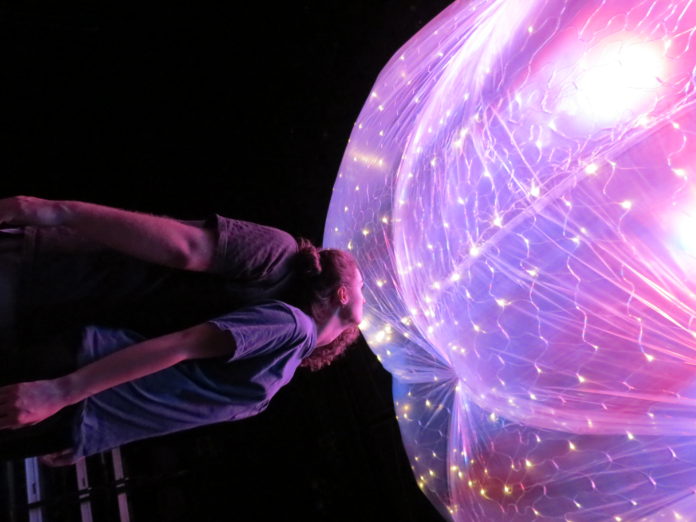 Last night I had the pleasure of attending the opening night of BadMouth Theatre Company's production "Constellations" by Nick Payne. If you don't have plans for tonight or tomorrow afternoon, then go see this play. It plays again tonight (9/10) at 7:30pm and tomorrow (9/11) at 2:00pm.
Entering the theater, I felt as if I had been shifted into a place that doesn't exist within my own time. The grid on the floor clashing with the organic canvas of lights above created a stage where anything could happen.
After a brief introduction by company founder Blake Taylor, the lights dimmed to a blackout and Roland (Griffin Cobb) and Marianne (Abigail Hamilton) took the stage.
Seeing a man and a woman on stage is about as close to the typical boy-meets-girl play as it gets. In the second scene, Marianne, a brilliant if not eccentric academic, and Roland, a beekeeper, meet at a mutual friend's barbeque and it starts twisting from there.
Rather than asking "what happens next?" it asks "what if?" What if Roland was married when they met? What if he had just gotten out of a bad relationship?  What if? A question I'm sure everyone has experienced a multitude of times in their lives.
This play approaches questions of quantum mechanics and love, the two most interchangeable ideas in everyday life.The presentation of both science and romance between these two characters is only overbearing in the emotional sense as right when you get a "good" outcome the play rips it away from your heart and serves up the worse case scenario.
The directing itself was done by various company members, but the presentation was streamlined so that you couldn't tell which scene was directed by whom.
The actors were well prepared and dedicated, and the romance between the two characters was believable to point I found myself personally invested in the story. It being performed in a small black box theater was the perfect setting for such an intimate play.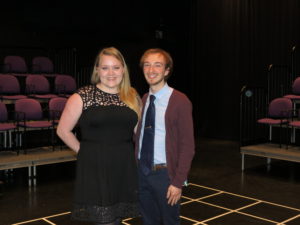 The highlight of the play was the set though. Using a translucent canvas and a web of lights, coupled with the overhead stage lights, BadMouth was able to simultaneously produce an atmosphere that matched the mood of the characters while also inducing the audience into a space where time is fluctuating.   
A few times the movement of the characters felt unnatural and directed. There was also the issue of establishing a pace at which the play would proceed.
However, those are very minor when compared the emotional pay-off that awaits you at the end. I would recommend to any of my friends to see this play and so should you.