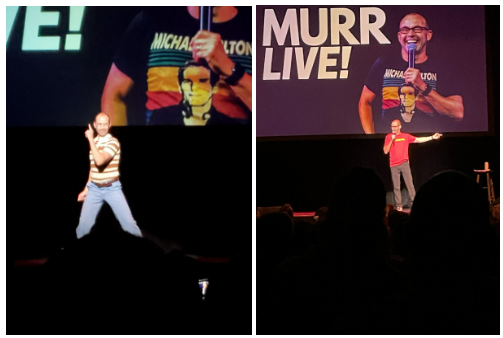 Bounding onto the Brown Theatre stage and breaking into choreographed dance—exuberant, bald, and clad in an orange and white striped shirt, James "Murr" Murray was electrifying, earning a standing ovation solely from pelvic thrusts to the rhythm of Dua Lipa's "Dance the Night." 
Arguably the best of the four members of truTV's massively popular Impractical Jokers, a hidden-camera reality TV show, Murr graced the stage of Louisville's Brown Theatre on October 22, 2023. Without his fellow cast members (Brian "Q" Quinn, Sal Vulcano, and formerly Joe Gatto), one might expect the stage to feel naked, but, for the most part, Murray was able to command the crowd with a mix of standup, stories about the Jokers, text messages sent on audience member's phones, and even by playing a live version of Impractical Jokers on the streets of Louisville. 
The Murr Live show I attended had a bumpy start with a lackluster opener whose central jokes were about pronouncing Louisville wrong and making fun of his wife. (He also, later in the show, called a man's Chinese girlfriend an "anime person.") After the opener's set, everyone was on the edge of their seats in anxious anticipation of Murr's appearance, anticipation higher than it would have been if the opener had actually been funny, but technical difficulties with the theatre's projector delayed the star's appearance by another twenty minutes. Tensions in the room were high, and the excited energy before watching a show was fading fast; no one wanted to wait any longer.
With the arrival of Murray came that of relief. It was as though all the stress was washed away. I have never applauded harder in my life, never felt such an urge to whistle and stamp my feet, never felt such a rush of joyous energy. It was as though God himself had descended to earth. James Murray, for that brief moment before he spoke, was our savior. 
It's hard to judge the quality of a performance where the entire appeal of the performance is just the fact that the guy is even trying to do standup. Murr opened his set with two fart jokes in a row, neither of which were particularly funny apart from the fact that it was Murr saying them. I was initially worried that this initial humor would carry on throughout the show, but thankfully, Murray seemed to know where his limits were when it came to comedy, the limits being that he really is not a solo comedian. Most of the funniest moments of the night involved him sharing behind-the-scenes knowledge of the Joker's show, giving us peeks into his group chat with the guys, exclusive footage of him flying to Florida in a wedding dress, and telling stories about what being a Joker is all about. What makes Murr so charming lies in his interactions with others. 
And so, after showing everyone excerpts of his conversations with Amazon AI about how he didn't receive his lube (he wanted everyone at the show to know that he has sex), he moved on to crowd participation comedy. Three individuals gave their phones to Murr to do whatever he wanted, and that's precisely what he did. We all watched as he texted one guy's girlfriend, "I want us to have a kid," told a lady's mom, "I think I'm pregnant, and it could be anyone's at this point," and texted a recent divorcee's retired cop friend that she wanted him to cuff her, a text to which he promptly replied, his message gracing the big screen for everyone in the theatre to see. 
One could ask what makes a person want to go to Murr Live. For some, the appeal was likely his persistent and vulgar Instagram advertising (his promotion for his Louisville show involved him doing situps while a dog humped his leg); for others, it may have been the fact that they're huge fans of the show and are willing to see anything connected to it, even if it's just one Joker. For me, the charm lay in the fact that it's just really funny to see a solo show of a guy who's only famous because of what he does with his friends. Seeing one Impractical Joker and not the rest is ridiculous, and yet the night was still a blast.
Murr is not a solo performer, and if you're expecting a solid standup comedian, then Murr Live will let you down. However, if you're looking for a show where James Murray talks about the Impractical Jokers, tells a few fart jokes, and sends raunchy texts on a few people's phones, it's the perfect fit. Murr Live, for a diehard Murr fan, is unforgettable.