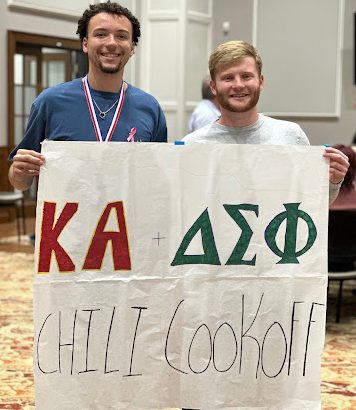 On Saturday, October 28th, the Delta Sigma Phi fraternity and the Kappa Alpha Order teamed up for a chili cook-off philanthropy event in the Campus Center. Organized by the two service chairs of the fraternities, Sean Gannon of Delta Sig and Bennet Fain of KA, the cook-off went off without a hitch. Inside was a slew of flavorful chilis, ranging from custom, student-made recipes to that of grandmas that had been passed down through the years. It wasn't all classic red chilis either; there were a few white ones, some spaghetti chilis, and a couple of cooks snuck in a tomato soup as well–a surprising hit with tasters.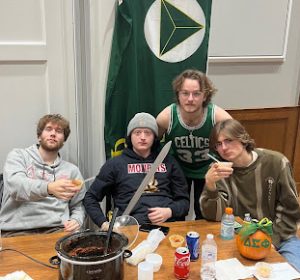 A select few were asked to weigh in with their opinions on the 19 distinct chilis that were presented. The general consensus was that the smooth dark chili made by the team, "Taste of the Nile," was one of the best and most refreshing chilis. However, one brave eater toughed out all 19 chilis with no breaks in between and said that the white chili made by the "Sweethearts," team was the most delectable around. There were also rumors that The Rambler's very own Jack Thomas had the spiciest chili of the entire cook-off. After witnessing firsthand the heat of the chili, it was not nearly as spicy as this reporter had hoped.
The cook-off ended with the official judges weighing their opinions on whose chili was the best of the best, with the winners being "Two Dads and a Son," a team made up of Sean Gannon and their parents. They took home the gold with their divine red chili that won over the taste buds of the judges. There was also voting for the fan-favorite chili, with every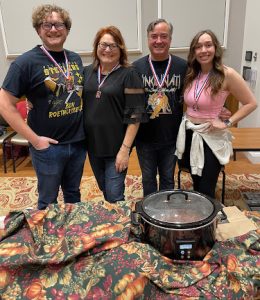 taster at the cook-off voting on their favorite chili of the day. The team "Texas Chili Bowl" made a scrumptious Texan chili that claimed the hearts of the masses, taking home the honorable accolade.
It was a heated competition between the contestants, but at the end of the day, everyone had a blast. From the cooks who gave their best to impress everyone, to those who took time out of their Saturdays to eat some spectacular chili, it was a day to remember here on campus. This reporter will make sure to show up next year to see what amazing chilis are awaiting the next top prize.