Lake Effect, the first exhibit of the Morlan Gallery's 2018-2019 season, is a product of both the Transy-specific space and the curatorial mind of a Transy graduate.

Transy 1992 alum and Executive Director of Exhibitions at the School of the Art Institute of Chicago Trevor Martin is the curator for Lake Effect. The show was installed over the period of two days in the middle of August, which forced Martin to make decisions as the curator based on the his intuition and quick thinking with the artists in the room. "I have to admit, I've never installed a show in two days so I was racking my brain thinking 'is this possible'?"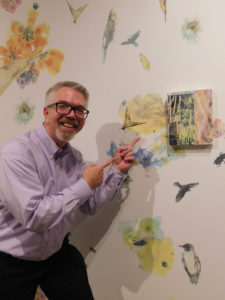 Lake Effect was inspired by an invitation from Transy art professor, Jack Girard who "made me understand the power of art and power of creative force" said Martin, who studied with Girard during his years as a student at Transy. "He invited me to think about an exhibition here. The invitation was really about makers, particularly painters who were dealing with scale, with layers, with texture, with surface." The pieces in the exhibit are not tied to any strict definition of art form. Some pieces are sculptures while others are distorted pictures, paintings, and even a silent video.
Lake Effect is not a traditional exhibit and the way the works are displayed is meant to plays with dimension and the viewers' perception of the art. "We installed them purposefully kind of defying the typical rules of gallery installation that everything is hung at a certain eye level. A lot of these pieces are hung down in the corner or next to the floor or up top near the ceiling to draw attention to the architecture of the room." Every space and relationship between the works was intentional. Martin explained, "As we were installing these works, we were conscious of relations between the works and what distance or space or pause of a blank section of a wall might be and the dialogues."
He had all four artists, Claire Ashley, Susanna Coffey, Jaclyn Mednicov, and Maryam Taghavi, think about how to use the space of Morlan Gallery as inspiration and the exhibition opportunity.Martin says that he wanted "to mention that they're all women, which I feel very proud about, because the history of lots of museum collections are dominated by men and historically, women have not gotten their fair share of representations."

Susanna Coffey, the F.H. Sellers Professor in Painting at SAIC contributed a suite of portraits to the exhibit. "I specifically asked for a suite of portraits and in one of them I can literally see her face and the others are very abstract images that are almost like visual puzzles to me. If I am to interpret these as portraits, they have a psychological charge."
Coffey's method of creating her art is unconventional and began when she taught a figurative painting class a few years ago. She wanted to understand how figurative painting works and what that means in order to better teach her students. "As a new faculty member with limited, modest funds who couldn't necessarily hire models or pay model fees to pose for her, she turned to herself. She set the mirror in front of her and started painting her own image."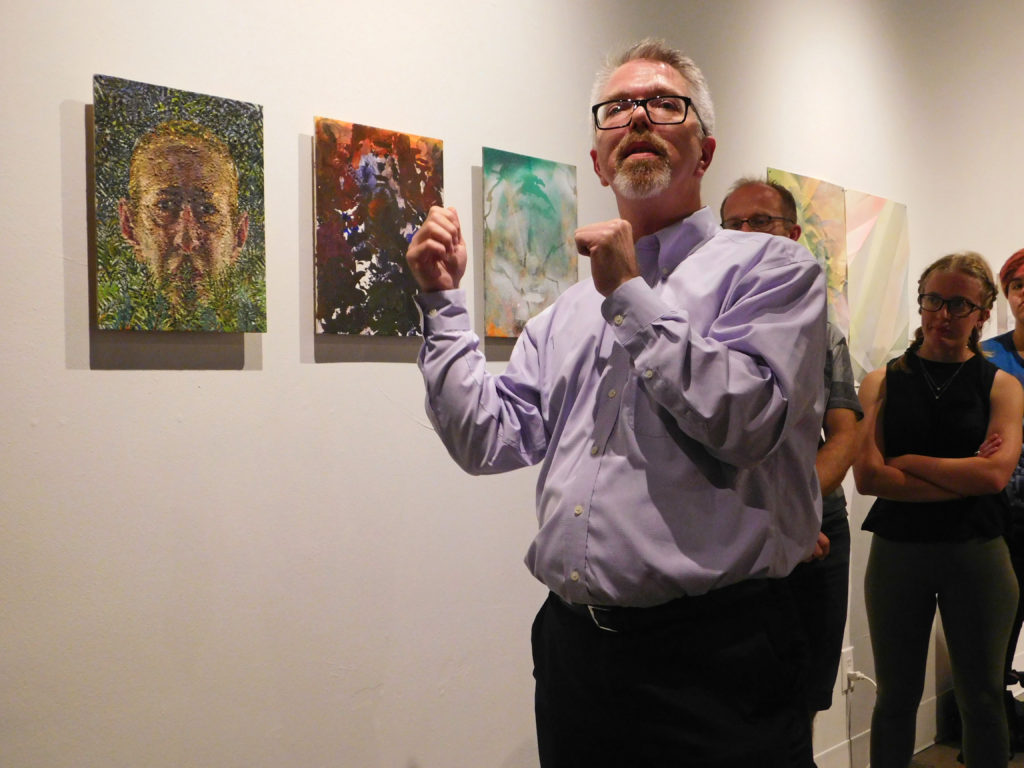 "They're not flattering self portraits. It's her image, it's often her face, but sometimes she's in these glasses, in a weird hat, she looks like she's sunburned, she has volcanoes going off behind her. A lot of it is about the study of technique and material." Coffey's paintings, shown in the featured image, all invite the viewers to interpret her work.
Another one of the talented artists, Claire Ashley, is an adjunct associate professor at SAIC. Ashley "creates a lot of these inflatables as costumes that people can wear and dance in. Claire talks a lot about inspirations for her work that includes having children, growing up, and the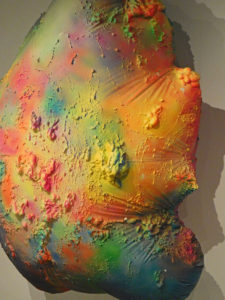 Vibrant colors and interesting masterpieces, this is Lake Effect. Photo by Gabby Crooks

"They have this relationship to the human body. She [Ashley] embraces humor a lot and humor is valuable. They invite us to touch them and we want to touch them and interact with them because they're so fun."

Martin, pointing to one of Ashley's pieces near the gallery's air duct, laughs, "I think this might be one of the first moments where that air duct has actually become a part of an installation piece in the show."

Ashley doesn't just create large inflatables. She also integrated some smaller, plaster sculptures into the exhibit that are "sprinkled throughout the exhibition" said Martin, "It kind of adds a hide-and-seek quality" to the exhibit. Some of her pieces intertwine with artist Jaclyn Mednicov's art pieces. Mednicov is a Chicago-based artists who creates unique pieces by using distorted images. "Jaclyn does these amazing pieces that are all about surface. She often takes photographs of things she find in the world will print those photos sometimes printing them oversize and then she has this process in which she covers the surface of that photographic image with hand sanitizer with alcohol and then prints them, usually oversized and then she coats the image with hand sanitizer and the alcohol and the ink react react so it creates this release of the ink onto another surface so they become a mono-print."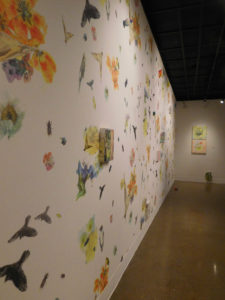 Martin said that Mednicov's work is all about "layering, challenging ideas of representation." Jaclyn Mednicov created a new wallpaper piece for Morlan that covers the entire wall using images she captured from Instagram in addition to images she took herself, Martin explained. "She was taking and scanning and manipulating them, printing them, and distressing that image. A lot of that is about challenging ideas of representation and scale and form. The moths are as big as the birds or the ants or the beetles."
The last artist, Maryam Taghavi, who is from Tehran just received New Artist Society Scholarship to complete her MFA at SAIC in performance. Taghavi's contribution to the exhibit is in the form of a silent video in which she carries a mirror the size of her body through the Art Institute of Chicago. "She had to get special permission to carry this through this museum, did it early in the morning before anybody else was there to avoid any hazards of breaking or bumping into public, and in some ways, it's the study of the space because she was there carrying the mirror, there's a camera person with her, there's a guard escorting them. It's this visual study of the building before it's entirely awake before visitors come." said Martin. "I debate, what we're seeing here, is this video the work or was the work the actual performance of carrying this object through that collection and really to experience the original work, would we have to be there at 8:30 in the morning and watch her do it? Is it documentation of the performance, is it performance for camera intended in that way, like what is the elemental quality of how we position this work."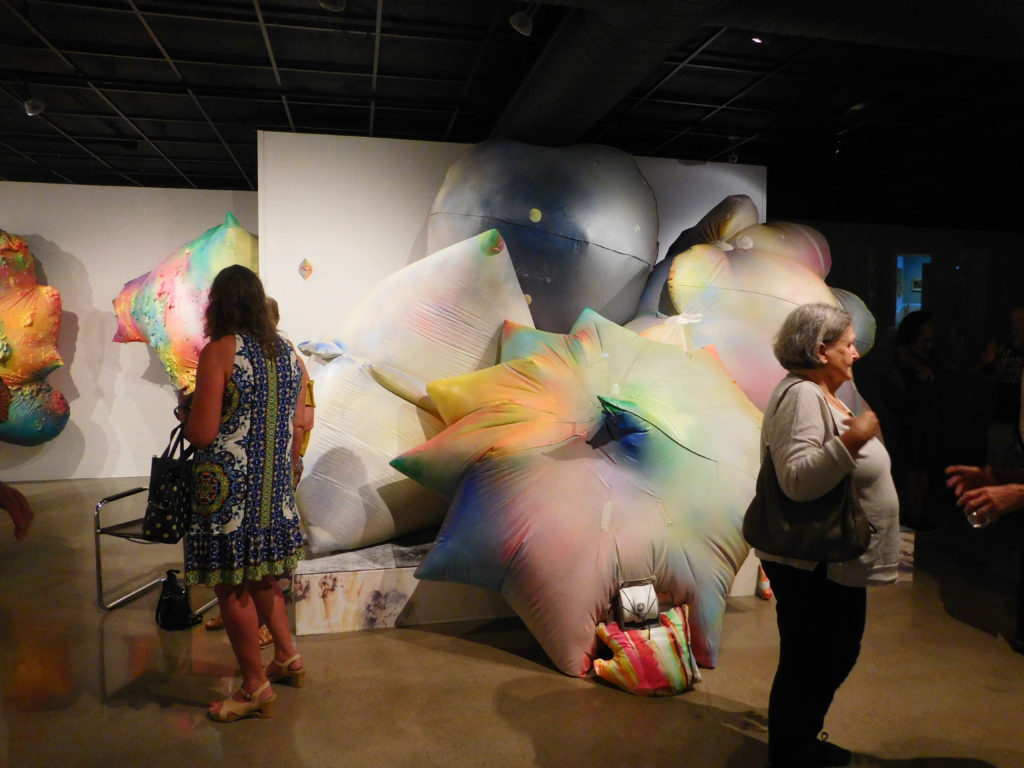 "Everything that we see reflected in the mirror is equalized, it's all of equal value.The corner of the ceiling is just as valuable as the Monet painting, so it's all it's all kind of breaking open and questioning 'what is our visual field?' I think it's important that we note that She's carrying this through the art institute which is referred to as an encylopedic museum meaning that it collects work not of one specific genre but of representing many different cultures. Institutions of this sort are often dominated as is the art institute is by male artists. We think about the history of the absence of women and it's often western art that is focused on. So what does it mean for Mariam who is a non-western female artists to be carrying this mirror through a museum? She's hidden behind the mirror. We see her feet, hands, legs, she's intentionally absented herself from this space that proclaims to represent many cultures and many artistic practices. It has embedded in it this institutional critique of what museums say they do and what they do."


https://transyrambler.com/wp-content/uploads/2018/10/Trevor-Martin-Lake-Effect.mp3
"I find this piece meditative. It's silent, it doesn't have a soundtrack on top of it, it allows us to insert our own imaginary narrative on what we're seeing."
---
This exhibit will run through October 18th. The gallery will be closed October 15th and 16th for Fall Break.