Transylvania's Diversity and Inclusion Office kicked off a new initiative last Friday to expand understanding of diversity on campus.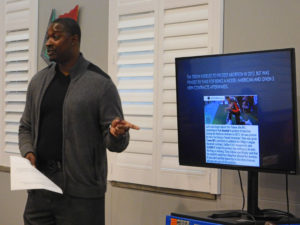 Hosted by Associate Vice President for Diversity and Inclusion, Taran McZee, the Diversity & Dialogue luncheons are a new, "hopefully monthly" event to be held in the President's Room in Forrer. Students, staff, and faculty will all come together to discuss issues relating to diversity and understanding of all forms.
The event is part of the Project One initiative, Transylvania's mission to foster an "environment of understanding, ethical compassion, and social responsibility."
This week's subject was the controversy surrounding Colin Kaepernick's Nike endorsement. In 2016, 49ers player Colin Kaepernick protested police brutality against African-Americans by kneeling during the National Anthem. Although many claimed he was disrespecting the American flag, Kaepernick insisted this was not his intention.
In the next season, Kaepernick went unsigned by any NFL team. But Nike recently featured Kaepernick in an ad campaign, reigniting the controversy.
McZee made clear beforehand that all respectful viewpoints were welcome, and while there was little disagreement, what difference in opinion there was during the discussion was always civil, in keeping with this year's theme. McZee brought in historical influences on Kaepernick's protest, as well as the inspiration and meaning behind his act of kneeling during the Pledge, illuminating the true issues behind his message.
According to McZee, the goal of these discussions is to raise awareness and promote discussion of diversity issues on campus. He said everyone is who is associated with Transylvania University is welcome to the events. He said that at his previous institutions, he has organized these events before with great success. He encourages everyone to keep an eye out for future initiatives from the Diversity office.

Student Ashley Chindo expressed that she initially had concern with diversity on Transy's campus. Asked why she was drawn to the event, she said she "didn't expect Transy to have anything for diversity, and not care for students of color. And I wanted to see what this event was about."
When asked why she was interested in the event and discussing diversity overall, Chindo said that she was interested in "making an impact" on campus to change Transy for the better.
The next two Diversity & Dialogue events will be on October 19th and November 30th. McZee said he would like future events held on a monthly basis, and also to include a partnership with UK's LGBTQ+ organization.
October's discussion will be on costume appropriation as Transylvania gears up to celebrate Halloween. Once again, everyone is encouraged to come out and join in the discussion to learn more about diversity and how it affects us and our campus family as a whole.