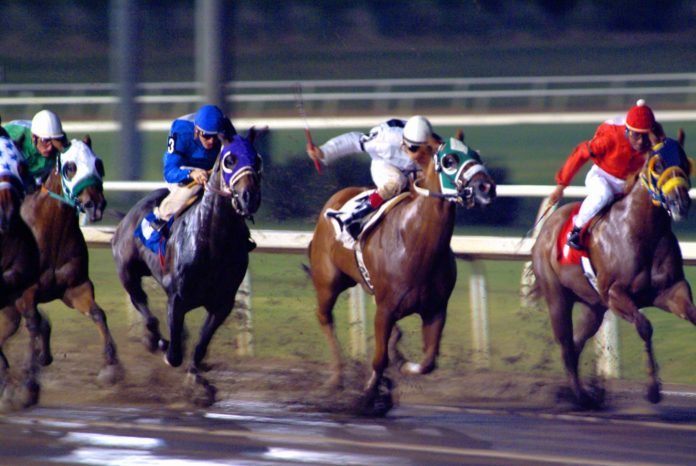 The 143rd running of the Kentucky Derby is today at 6:46 p.m. Eastern Time. This first leg of the elusive three-race Triple Crown, the Derby is run at Churchill Downs race course in Louisville, KY every year, without fail, on the first Saturday in May. Since 1875, the best three-year-old colts (and occasionally a filly) in the world have come together for what has become known as the most exciting two minutes in sports. It's time for us all to start looking at form and things like Professional Horse Racing Tips ahead of the big race. The purse is a whopping $2 million, and the fees for being in the race alone include a $25,000 entry fee and a $25,000 starting fee. That's why they call this "the sport of kings". Anyway, whether you're watching from home, from a Derby party, or from Churchill Downs, here's who to watch:
1. Lookin at Lee
Trainer: Steve Asmussen Jockey: Corey Lanerie Current Odds: 20-1
The lowdown: The 1 post is pretty terrible. In a race with this many horses, breaking from the position all the way on the inside means things don't look so good—Lookin at you, Lee.
2. Thunder Snow
Trainer: Saeed bin Suroor Jockey: Christophe Soumillon Current Odds: 20-1
The lowdown: Thunder Snow won the U.A.E. Derby on a muddy track—similar to how it's going to be at Churchill today. However, he's just shipped all the way from Dubai, which is a lot to overcome, even for an exceptional racehorse.
3. Fast and Accurate
Trainer: Mike Maker Jockey: Channing Hill Current Odds: 50-1
The lowdown: Very pretty, and 3 is my lucky number, but that's about all there is to this guy.
4. Untrapped
Trainer: Steve Asmussen Jockey: Ricardo Santana Jr. Current Odds: 30-1
The lowdown: Untrapped is one of two horses trainer Steve Asmussen has in the Derby this year—in the six races he's run in he's only won once— although his one win has been at Churchill Downs. Probably running with Fast and Accurate.
5. Always Dreaming
Trainer: Todd Pletcher Jockey: John Velazquez Current Odds: 5-1
The lowdown: Always Dreaming had a big win at the Florida Derby, but has apparently been hard to handle since he arrived at Churchill. If he looks cool, calm, and collected closer to post time, bet on him.
6. State of Honor
Trainer: Mark Casse Jockey: Jose Lezcano Current Odds: 30-1
The lowdown: Came in second in the Florida Derby, and tends to come to the front of the pack early on. Trained by the same person as Derby favorite Classic Empire, but is a very different horse—seems unlikely.
7. Girvin
Trainer: Joe Sharp Jockey: Mike Smith Current Odds: 15-1
The lowdown: The Louisiana Derby winner, and a fantastic horse with a fantastic jockey to boot. But that's the problem, prior to the Derby Girvin has developed a foot problem and will be running in special shoes to protect his hoof. Would not be surprised if closer to post time he is scratched.
8. Hence
Trainer: Steve Asmussen Jockey: Florent Geroux Current Odds: 15-1
The lowdown: Another Asmussen horse, Hence won the Sunland Derby in March, has raced well on sloppy tracks, and came in a close second in a race at Churchill in 2016. Wild card.
9. Irap
Trainer: Doug O'Neill Jockey: Mario Gutierrez Current Odds: 20-1
The lowdown: If you were at Keeneland opening weekend, you might've seen Irap win the Bluegrass Stakes in a huge upset victory. However, that huge upset was also his first career win. Still, his trainer Doug O'Neil is no stranger to producing Derby winners—don't count him out.
10. Gunnevera
Trainer: Antonio Sano Jockey: Javier Castellano Current Odds: 15-1
The lowdown: A consistent horse—with only four wins he has made over $1 million. Not looking like a potential win, but worth a shot in a bet with multiple horses, if that's your thing.
11. Battle of Midway
Trainer: Jerry Hollendorfer Jockey: Flavien Prat Current Odds: 30-1
The lowdown: Battle of Midway has a Hall of Fame trainer in Jerry Hollendorfer, and ran a respectable second in the Santa Anita Derby—but he's not a standout.
12. Sonneteer
Trainer: Keith Desormeaux Jockey: Kent Desormeaux Current Odds: 50-1
The lowdown: No wins in ten starts. That's all. If you want to bet a long shot, this is your guy.
13. J Boys Echo
Trainer: Dale Romans Jockey: Luis Saez Current Odds: 20-1
The lowdown: Potentially worth a shot in finishing second or third—doesn't have a great track record recently. In all fairness, he has a fantastic trainer, but losing his usual rider Robby Albarado isn't the best thing that could've happened for him—could come from behind at the end.
14. Classic Empire
Trainer: Mark Casse Jockey: Julien Leparoux Current Odds: 4-1
The lowdown: Awesome horse, one of this year's Derby favorites—two-year-old champion, winner of the Breeder's Cup Juvenile, has won in both of his starts at Churchill. Has been hurt leading up to the Derby, but most recently bounced back in a hard fought victory in the Arkansas Derby—should be on the board.
15. McCraken
Trainer: Ian Wilkes Jockey: Brian Hernandez Jr. Current Odds: 5-1
The lowdown: Another major Derby contender, has won four of his five starts, with his one loss being because he'd just come back after an injury. This horse is a machine, bet on him.
16. Tapwrit
Trainer: Todd Pletcher Jockey: Jose Ortiz Current Odds: 20-1
The lowdown: One to watch, winner of the Tampa Bay Derby in March, and has reportedly been training really well since. Tends to come from behind, meaning he's able to conserve energy and explode toward the end, which is only a plus in a race like the Kentucky Derby.
17. Irish War Cry
Trainer: Graham Motion Jockey: Rajiv Maragh Current Odds: 6-1
The lowdown: Irish War Cry has won two derby prep races (Holy Bull and Wood Memorial Stakes), and has beaten both Gunnevera and Classic Empire. It's rough being out in the 17 post, but this guy could do it.
18. Gormley
Trainer: John Shirreffs Jockey: Victor Espinoza Current Odds: 15-1
The lowdown: So Gormley isn't the best horse in the race, but he definitely has the best team. Trainer John Shirreffs trained Zenyatta, one of the most famous race fillies ever, and in case you've forgotten—the rider of Triple Crown winner American Pharoah? Victor Espinoza.
19. Practical Joke
Trainer: Chad Brown Jockey: Joel Rosario Current Odds: 20-1
The lowdown: Runner-up in the Bluegrass Stakes at Keeneland, not looking so hot.
20. Patch
Trainer: Todd Pletcher Jockey: Tyler Gaffalione Odds: 30-1
The lowdown: So firstly, Patch is freaking rock star because he's running in this Grade 1 race with only one eye—but as far as win place or showing—he's not gonna do it.
May your hats be big, your juleps fine, your burgoo tasty, and your winner a long shot. Happy Derby, y'all.
To Watch: NBC coverage beginning at 2:30 p.m.
*all stats taken from the Daily Racing Form