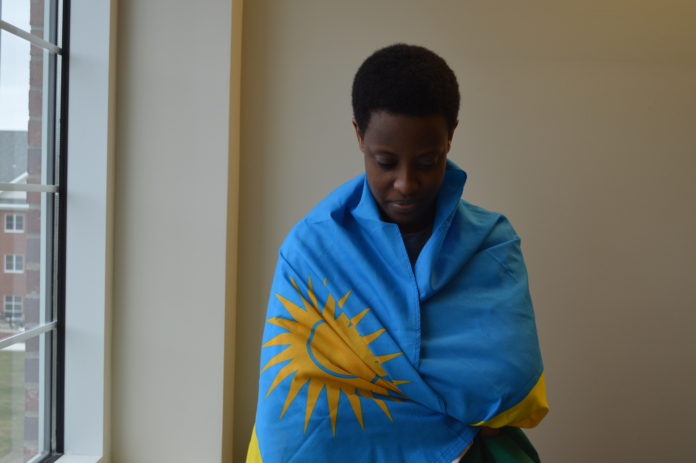 Imagine visiting a country for the first time in which you're unfamiliar with the native language like if you decided to study in Dubai for example. It takes longer to decipher directions, conduct conversations, and interpret inflection. What kinds of tools, help, and resources would you hope to have in your new environment that would bridge that communication barrier and improve your experience?
This question, in relation to Transy's own English language learning and multilingual student support systems, is one that has sparked a healthy conversation on campus recently.
"Multilingual Students and the University Challenge" was the title of Dr. Bruce Horner's presentation on the afternoon of the inauguration of the USA's 45th president. With around 40-50 students, faculty and staff convened in the library's ACE, Dr. Horner, the Endowed Chair in Rhetoric and Composition at the University of Louisville, discussed the challenges universities face in creating an environment supportive of language diversity.
The term "multilingual" means the ability to speak more than one language. It encompasses a diverse range of English education backgrounds, places of origin, races, classes, genders, and abilities. In fact, as Dr. Horner argued, multilingualism isn't necessarily a group label so much as it is a ubiquitous social reality.
"All of us, and not just those deemed multilingual, are confronting multilinguality all the time as part of a linguistic ocean in which we live and swim," Dr. Horner said.
To address this reality and work past monolingual assumptions, Dr. Horner was clear about what colleges should avoid: systems that segregate multilingual learners and view multilingualism as a "problem to be corrected" rather than a source of educational potential.
"Multilinguality is an advantage to individuals insofar as it represents greater knowledge," said Dr. Horner. "As people committed to education, everyone here favors knowledge growth."
Dr. Horner argued that viewing language diversity as the norm, rather than the exception, opens the door to a new model of collaborative, social learning derived from negotiation among these language differences.
Efforts are in place at Transy to shape the academic environment in this way.
"When we are building policies, curricula, first-year seminar courses, new spaces on campus, it's important to think always of how we're going to address the sites of multiple language contact," said James Wright, Transy's English Language Learning/Multilingual Learning Specialist.
The First-Year Seminar Expository (FYSE) course, the centerpiece of academic acclimation and language support at Transy, is built around this sort of collaboration.
"The communicative skills [developed in FYSE] include negotiation across languages and cultures and dialogue… critical observation, and critical reflection," said Wright. "The goal is to create these kinds of situations in all courses at Transy."
Wright came to Transy in August of 2012 under the title of "ESL consultant." However, Wright notes that the term "ESL" is a specific category under the umbrella of multilingualism, and all too frequently becomes a label with harmful associations, especially for students educated in the United States K-12 system. He has strived to build a program that supports individual language diversity, yet also supports non-native English speakers acclimating to academic and social life at Transy. Non-native English speakers who are struggling to become fluent in English may want to check out something like effortless english to help them settle in to college life, as they promise to help people speak fluently within 2 or 3 months.
"[For FYSE, the goal was] to work with them in ways that are actionable that didn't marginalize them," said Wright.
Even though the First-Year Seminar Expository course is designed to be supportive, feedback reveals that the course is often perceived from inside and outside as remedial: a "special FYS" for students with some sort of deficiency. A student qualifies for FYSE if their ACT English score is lower than 22, or SAT Verbal score lower than 520.
"Right now [FYSE] is very misperceived, viewed solely as an international class or a remedial class," said junior SGA senator Katie Tucker, chair of the Student Government Association's Academic Affairs Committee. "I think a lot of students are very hurt by the perception."
The Academic Affairs Committee of SGA has been hearing feedback from students and working with the administration to shape the construction of the first-year program, including FYSE and its subsequent course, First-Year Seminar. They've worked to find a solution that integrates, not separates, multilingual learners from their peers and the rest of campus life.
"There may be need for extra support, but you don't want to separate them from the rest of the population," said junior senator Hunter Overstreet, who is taking the lead on the first-year experience project this year.
Solutions on the table include expanding the number of students in FYSE, creating a hybrid FYSE-FYS course, restructuring both courses so that they transition more smoothly, or replacing the FYS course entirely with FYSE. However, concerns like the need for a qualified faculty base mean nothing is final.
Wright, Tucker, and Assistant Professor of Business Administration Adam Evans – who has been actively involved in Transy's diversity and inclusion efforts and is quadrilingual himself – all agreed that the best method to improve the university's multilingual programs is to expand the resources already in place.
However, this year, those resources have been reduced. In Fall 2016, Wright's full-time position was cut to part-time. Additionally, the Peer Mentorship Program, a library-funded acclimation program that provided a one-on-one relationship in which mentors share strategies for navigating academic and social life at Transy, had to be eliminated due to budget constraints.
As resources have declined, the need has grown. For example, there were fewer than ten international students on campus in 2012: now, there are almost 40. Multilingual international students, according to Dr. Horner in response to a question from Chinese international student and sophomore Daniel Zhang, can help foster awareness of multilingualism by "insisting on that fact… to introduce these differences;" but this requires institutional support.
"The onus is on the institution to make those kinds of exchanges possible for the value of all students," said Dr. Horner. "There is a history of many universities seeing international students really as just a moneymaker. They charge them more tuition, and then they don't offer any kind of help to them… That's the worst possible case."
"There's so much learning that can go across languages and cultures here," said Wright. "But continuing to reduce positions is not going to move that further along."
One solution that has happened, though, is more conversation. Speakers like Dr. Horner, drawing almost 5 percent of Transy's student body, have reinvigorated the dialogue. The Academic Affairs Committee hopes to provide more opportunities for conversation. Dr. Evans recently hosted an open forum about campus's brand and image in the community.
"I think we need more chances like that, just to talk," said Dr. Evans.
Another solution may lie in allowing multilingual and ELL students to decide individually what support they need.
"That's another option… using guided self-placement so that students can choose the kinds of support that they get at institutions," said Wright. "Embed in the advising that we do assistance for students who are trying to make really critical decisions about what they think about themselves as learners."
Dr. Evans makes sure that students in his classes from all language backgrounds are aware of resources available to them, such as the Writing Center, and gives them the agency to choose the resources for themselves. It's important that students in his class are aware of the expectations of rigor coming into Transy and his classes, and that no one is singled out.
"I would never want to invite a student into my class to set him or her up for failure," said Dr. Evans. "It's important, when I consider the assignments and grading, balancing unfair advantages between my native English speakers and my non-native English speakers."
Dr. Horner hosted a faculty training session Saturday morning after his Friday discussion to explore ways to integrate inclusive practices in the classroom. Assigning readings in translation, assigning projects that engage with language difference, and providing opportunities to facilitate communication are just a few inclusive strategies.
Dr. Evans, who has taught in China, keeps in touch with his international students, who are primarily Chinese, via the global communication app We Chat.
"Just using a medium that they're more familiar with, and one that I was familiar with from my experiences in China, allows me to hit one button and translate very quickly, so they're able to communicate with me directly… they're much more likely (to reach out to me) via We Chat than they are via email," he said.
As student populations at colleges around the country begin to reflect the global reality of multilingualism, the question becomes how to move beyond merely recognizing differences and toward utilizing and integrating those differences to advance collective knowledge.
"How do we move beyond that difference without ignoring it?" asked Wright.