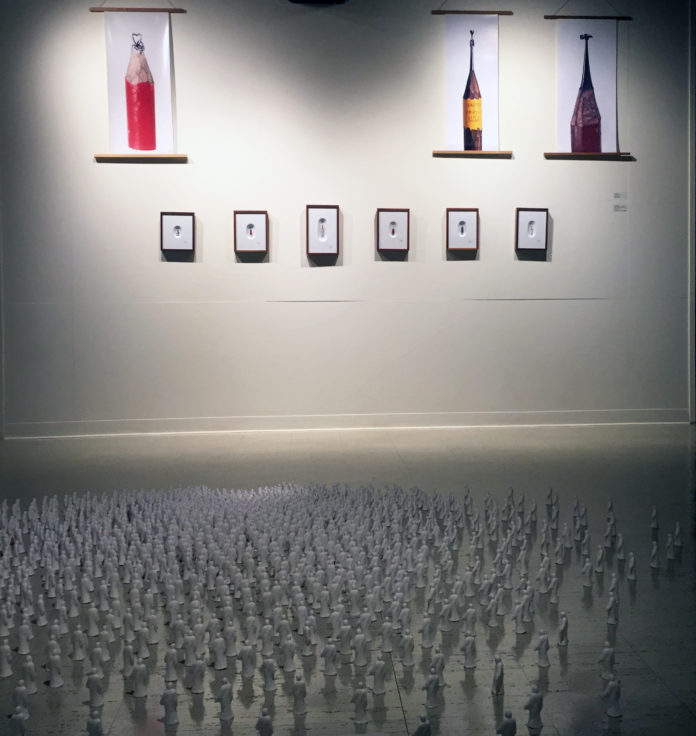 At first glance, the pencils framed in the Morlan Gallery look just like pencils: short and stubby, worn from use and varying in color. However, upon closer inspection one can see that these are no ordinary pencils. Each pencil holds an intricate design within its lead. The pencils, which are the work  of artist Dalton Ghetti, are a wonder to the human eye, each piece of work is unbelievably small and detailed.
Ghetti visited campus this past Thursday to give a talk in The Morlan Gallery about his life and his work. During his talk, Ghetti recalled how when he was a young kid in school, each student would keep a small pocket knife or razor blade in their desk to sharpen their pencils while taking notes.
"You could sharpen your pencils without making any noise," Ghetti noted about the noisy pencil sharpeners schools now have.
To this day, Ghetti still uses little to no technology. In order to create his micro-sculptures, the artist primarily uses a needle and a razor blade, sticking to the basics in order to create his small masterpieces.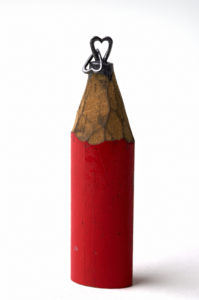 Ghetti's inspiration for his micro-sculptures came from the idea of nano technology that started to emerge in the 80's. As the technology began to grow smaller, Ghetti asked himself how small of art he can create.
A friend of Ghetti's who is a schoolteacher once collected her students' used pencils that had been discarded to the floor after they were too small to be used. She then gifted Ghetti the bag full of pencils knowing he could use them. At first Ghetti was unsure on what he could do with all the leftover pencil nubs.
"She gave me as a gift, this bag full of tiny little stubs," Ghetti said about the gift he received.
Eventually Ghetti found a use of the stubs. Ghetti marveled at how the children used the pencils until they were just big enough to hold in the childrens' small hands. And with these tiny pencils he created "The Alphabet," one of his more famous works: a set of 26 pencils each with a letter of the alphabet carved in its lead. Ghetti said each letter took him about a month to create, except for "S" which broke during the process, taking him an extra month to complete that letter. In order to create each letter, Ghetti explained that he used his needle to carve in the lead the shape of each letter and then continuously "scratched away" at it until the letters were formed.
When Ghetti first started his sculptures in 1986, he did not have to use a magnifying glass or any other device to assist him while he worked, however today he is sad to have to use both glasses and a magnifying glass. Ghetti said, "You'll understand as you get older."
Ghetti receives no payments for his art. He considers himself a handyman and does work that allows him to use his hands like carpentry and construction, a slight contrast to his tiny sculptures.
"This here, it's hard to explain because it comes from here" Ghetti said while pointing to his heart. "There's nothing to do about money with this stuff. I do this stuff because I want to create and I can, I just want to do it as much as I can."