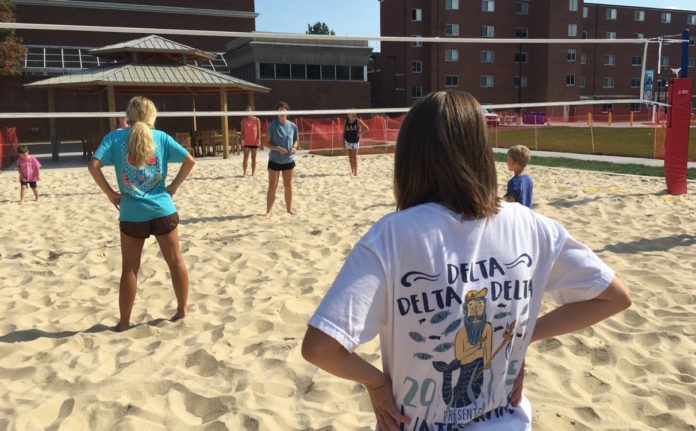 It was a sunny afternoon in Alumni Plaza as members of Tri-Delta migrated to the large central table like a beacon. Several of them wore white T-shirts without prior planning. The group mirrored each others' expressions and engaged eyes during a continuous stream of small talk, never a lull as they discussed schoolwork, bug-catching and hometowns.
"[Friendship] is one of our main values in our purpose," said junior Margaret Kelly. "We pay attention formally to friendship."

The values of "friendship, truth and self-sacrifice" bind together a group of women with diverse interests. There's no shortage of supportive energy. Members laugh with each other over their antics.
"Last year after bid day, we went through photos and zoomed in on people's faces, and a girl who graduated last year… she was in a dolphin costume and we zoomed in on her face and it was just so ridiculous, like…" said junior Raquel Loftus, completing her sentence with a goofy grin to demonstrate.
Members hold in common a love for their philanthropy, St. Jude Children's Research Hospital, and, in the case of many, for kids in general.
"Unlimited babysitting jobs," jokes sophomore Monica Shotwell. "On the GroupMe, always, it's like, 'hey guys, new babysitting opportunity!'"
Two kids under the babysitting charge of junior Kerby Standifer – Noah and Charlie – even joined a group of Deltas for a sand volleyball game.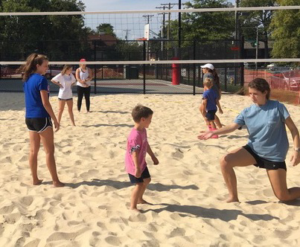 Active and involved, there is a culture of willingness to try new things. Many Deltas are athletes; just over 40 percent play a Transy sport.
Members speak their minds freely, from urging one member to get some rest during her illness rather than play volleyball to offering their opinions on various types of fruit. In Loftus's words, its sisters are "open."

This was reflected on the sorority hall. Decorated with quotes, triangles and pastel colors, the rooms create a serene, welcoming vibe. Senior Jillian Walls was initially attracted to Tri-Delta seeing everyone "hanging out in each others' rooms, talking about random things or helping with homework on the side."
"I live off campus, but I'm probably on the hall more time than I'm in my house," said Walls. "I stay there 'til probably one in the morning."
For Transy Tri-Delta, sisterhood means being tight-knit while also holding one another to high standards. Members track their study hours, service hours and participation points on GIN, a coordination app for sororities and fraternities.

"We want members that like our purpose, and who also follow it," said Kelly.

Like family, members keep up with one another's lives, sometimes even the seemingly minor details. As they walked to dinner, Shotwell asked Kelly how her sister's bulldog was doing.

"No one's a stranger in this organization," said Walls.