The front corner of the Caf is the de facto dining spot of Delta Sigma Phi.
"You know how our motto is, 'you'll never walk alone?'" asked fraternity president senior Erik Mudrak, "We like to say it's more like, 'you'll never eat alone.'"
Over lunch, junior members Blake Taylor and Joseph Bahena discussed the plays they were reading as senior Justin Wright massaged Taylor's shoulders. A table over, a mix of potential and current members joked about obscure rappers and tossed crumpled napkins into one another's glasses.
The loud, cross-table discussion mixed with quiet, one-on-one conversation reflects the variety of personalities within Sig. Yet, there is also a distinct group culture.
"It's really, really goofy," said Bahena. "A lot of memes."
"Even the people I don't share anything in common with aren't afraid to be a little goofy," said senior Alex Isaac. "Say something ridiculous, or scream at the top of [their] lungs for no reason. People are okay to be a little weird, and I think it's absolutely magnificent."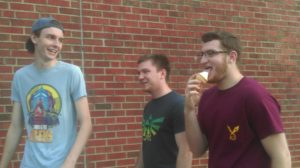 Isaac and his roommate, senior Tucker Reed, played video game music as they relaxed in their apartment in the Sig area of Rosenthal, door propped open. Their room is decorated with flags, movie posters and travel souvenirs.
"Most people put their personality into a room," said Isaac. "I would say that posters and Christmas lights are a staple."
"…and/or Sig paraphernalia," Reed added.
Among members, there's no shortage of inside jokes. There's also an intellectual vibe to conversation; in Bahena's words, Sigs are "politically aware."
"We consistently get in arguments with each other that are seemingly productive, at the end of the day," said Taylor.
In a fraternity so large and diverse, there is what junior Jackson Shaw referred to as "a culture of involvement."
"We're literally all over campus, doing everything under the sun," said senior Andrew Ellis.
This engagement gives Delta Sigma Phi a defined, visible campus presence.
"Everyone is so individual, and ecstatic about being it, that the outside impression is sometimes, 'wow, they are really passionate… they know who they are,' and sometimes that can scare off people," said Bahena. "But once you're on the inside, you're like, 'no one's out to really exclude.' It's just that we're all really passionate about each other already."
"We aren't trying to impress anybody," said Isaac. "We don't go out of our way to try to change our perception for other people. However we come off is what we accept."
Ultimately, it's diversity, trust and shared experiences that bind the Sigs together.
"We have a lot of comfort with each other," said Reed. "I think there's an unspoken idea that we help each other whenever we're in need."