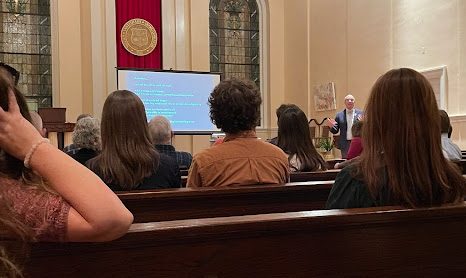 Opening his "Athens on the Frontier" talk on Thursday, November 9th, University of Kentucky professor Patrick Lee Lucas clearly set the tone for the story he was telling in his book: "It really is a story that starts almost with this building… I think sometimes academics sort of fool themselves into thinking that what life is all about is really these esoteric topics – but really, mine is 'What is home about?', 'What is Lexington about?' and I think you'll see that is kind of the theme that runs through the conversation today." The story heavily featured Transylvania University's very own Old Morrison, which he spent much of his talk discussing, the building hosting the talk in its chapel. 
The chapel's atmosphere was warm and friendly, with the majority of those in attendance being friends of Lucas and people who were knowledgeable about his work. Even as more of an outsider in the room, I instantly found myself engrossed in Lucas's narrative. As he told us, Lexington was and is known to many as the "Athens of the West," one of two with that exact title, and one of 18 cities in the US with the "Athens of the ____" title. It was a nickname the city took to highlight its role as a cultural center not only of the state but of the entire Western United States. This is accentuated by the influence of the Greek architectural style on residential, clerical, educational, commercial, and civic buildings. He emphasized the importance of Greek revival architecture in Lexington, not only due to its title as the "Athens of the West" but also because Lexington was often perceived as the wilderness. This perception made these old Greek revival-style buildings even more striking. 
While the conversation included much more information on Greek revival architecture and Lexington itself, the discussion of Old Morrison intrigued me the most, especially as a Transy student. The fire that destroyed the original Old Morrison building was discussed, as well as the construction of the new building authorized five years later and the importance of its location. During the Q&A portion of the talk, Lucas highlighted that Morrison is one of the three national landmarks in Lexington. The building is highly recognizable and leaves an impression because of where it sits, with its white color and location on a hill making it stand out. Morrison is a significant example of the influence of Greek revival architecture on the style of buildings in Lexington. 
Following his talk, Patrick Lee Lucas invited all attendees to a reception in the Gratz Perk Café, which included cider, cookies, and an opportunity to purchase Lucas's book and get it signed—a lovely closing to a night of learning.