From November 15th through the 19th, the Transylvania Theatre Department will be performing William Shakespeare's The Tempest. The show, which has been in production since September, is directed by Derrick Ledbetter. The Tempest is the story of the magician Prospera plotting her revenge after a family betrayal. When Prospera shipwrecks her enemies on her island, will she carry out her revenge or find peace and reconciliation?
I interviewed two cast members; Samantha Farr ('26) and Luke Aguilar ('27) about the time they've spent working on this performance. I first asked how they felt about their respective roles of Prospera and Ferdinand. Samantha responded that the role of Prospera was, "Intimidating to say the very least. Not only is this my first-ever lead, but it is also my first time doing a work from Shakespeare. Every role comes with their own challenges, and this one is no different…It took time and a good bit of work, but I am so proud of every step that has been made along the way." Luke, playing Ferdinand, remarked, "I feel incredibly lucky to be playing Ferdinand as my first role because my experiences with his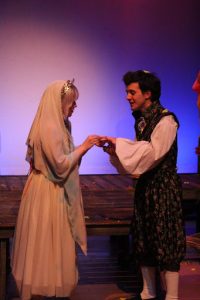 character have been super fun…I don't think I'll ever forget my time as Ferdinand, and I am excited to see where Transy Theater takes me next!" It was clear during my interview that both actors are passionate about their roles and we can look forward to a great performance from them.
Next, I asked Samantha and Luke about their interpretation of The Tempest's story and themes. "The Tempest is a story about the complexity of forgiveness and humanity," replied Samantha, "The characters drive the story and they are all interlinked in some form or fashion and are caught in their own internal storms as well as actually dealing with the tempest itself." Luke responded, "I think that The Tempest is about discovery… many characters face sorrow in this play, but the important part is that sorrow does not mean the end." Everyone has a different perspective on the themes of The Tempest, and you can only discover the truth if you come and see this performance for yourself!
To close our interview I asked the two of them for any additional thoughts they'd like to impart to readers. Samantha commented, "The show is not only a great showcase of acting but the technical designers and crew have done an absolutely amazing job of making the magic come to life…The tech is so enchanting that it makes the show an absolute must-see." Luke said, "The acting process can be very difficult and tiring at times, but for me, it's always worth it…I have had lots of fun working with my fellow actors, and our director, David Ledbetter, has done a phenomenal job guiding us through the show." There is a lot of work that goes into putting on a show and it is clear that so much time and passion has gone into The Tempest. I can confidently say that we can look forward to another amazing performance from the Transylvania Theater Department!