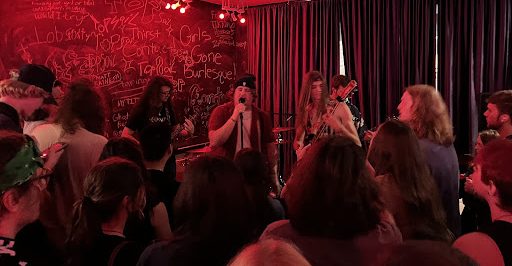 On Saturday, April 29th, two bands composed of Transy students participated in a concert at Girls Girls Girls Burritos, a popular scene for underground music in downtown Lexington. 
The two groups, Sphynx and Sun Shy, joined four other bands as they took turns on stage throughout the night, treating the audience to a variety of sounds from 'greasy riff punk' to 'garage rock'. With it being only an 8-dollar entry fee and a walkable distance from campus, this event was a perfect opportunity for fellow Transy students to support their talented peers.
The night of music began with Sun Shy, a group composed of vocalist Tyler Baker '25, drummer Henry Hoffmann '25, and bassist Asa Thomas '26. They performed all original songs, minus one cover of Radiohead's "Bodysnatchers". The group has one title released named "Whispers," and another coming on May 5th titled "Holocene". Being their first gig,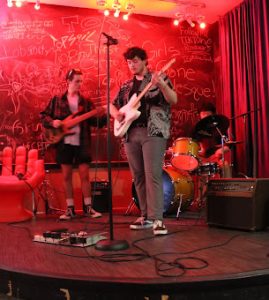 vocalist Tyler Baker described the experience as "a great opportunity" for the musicians. He stated that "having the chance to play alongside our friends in Sphynx, as well as other incredible local artists, was perfect." He added, too, that "having the support of the Transylvania community was wonderful, and we're excited to grow in the Lexington music scene."
Speaking on Saturday's turnout, Baker expressed how much it meant to the trio, saying, "We really appreciated all of the support we've been given so far. As a three-piece band, it can be a little daunting to try promoting our stuff, so all support is incredibly appreciated." The band has two shows planned in the near future. "On May 15th, we'll be performing in Transylvania's Bat Bash–right here in Back Circle! We'll also be returning to Girls on May 31st with Campus Rex, a super fun group from Cincinnati," stated Baker.
After performances by other local bands such as the Vibrolas & Small Steps, Sphynx took the stage as the closing act. All members of the class of 2024, the band is composed of vocalist Zach Drury, lead guitarist Jacob Ranzau, rhythm guitarist Bruno Sieber, bassist Jacob Young, and drummer Noah Hamblin. This concert was their album release show, celebrating the launch of Whispers, which hit streaming platforms the day prior. They mostly stuck to their album but played a few covers including "Freebird" by Lynyrd Skynyrd as an encore closer, which ended up being a serious crowd-pleaser.
I was able to speak with Jacob Ranzau, Sphynx's lead guitarist, about the album, concert, and more. The interview can be seen below:
Jack: This was Sphynx's first album. What kind of work went into the project, and how has the Transy community supported you all along the way?
Ranzau: Writing technically took the most time, only because we got started on it last year. The album itself was finished around February 2023. Recording and mixing took the most actual work, especially on Bruno's end. He mixed and mastered all the songs. Excluding singles, we recorded and produced everything by the end of March.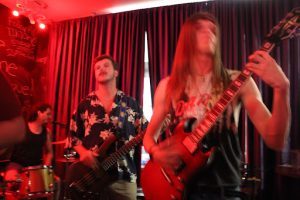 Jack: Wow! That had to be a stressful month, especially on top of classes and other obligations.
Ranzau: For sure. As a band, this was a really stressful period. The hardest part was finding times that worked for everyone. It took a lot of delegation and teamwork. Bruno spent his entire Spring Break mixing songs in the DART lab, all day every day until it was done. Many late nights.
Jack: I'm sure. About the DART lab, is it free to use? Was that kind of accessibility helpful to you all?
Ranzau: We made it clear that we weren't paying for studio time, so having access to the DART lab studio was a blessing. The album was recorded and mixed completely free on Transy's campus with permission from the music department.
Jack: Let's talk about the concert. What did this opportunity mean to you guys, and how did it feel to perform for a crowd filled with fellow Transy students?
Ranzau: The show was incredible, and we're so grateful that the other bands were there to play with us. It felt like the beginning of something awesome. Seeing so many Transy students in the crowd, many of whom I didn't know personally, meant so much. Hopefully, we can keep this momentum going.
Jack: Before we finish up, I have to ask about that Freebird performance. You guys killed it. What brought that on, and what was your favorite part?
Ranzau: Freebird was unplanned, but it didn't come as a surprise for us. We play it at the end of most rehearsals because it's just a fun song to jam on. We knew our friends might want to hear it at the end, so before the show we prepared for it just in case. When the encore came, we knew what to do. My favorite part was the solo, of course. The energy was electric, and Noah was going nuts on the drums so we all sat down for the crowd to watch him.
Jack: That's incredible, thanks for sharing. Anything else you'd like for the people to know about Sphynx?
Ranzau: Of course. Stream Whispers on Spotify and Apple Music! We've also got shirts, buttons, and other merch on the way. Thanks to everyone who came Saturday, the energy was awesome and we're so grateful for the support. We'll be back soon, and a second project may already be in the works…
Jack: Right on! Thanks, Jacob.