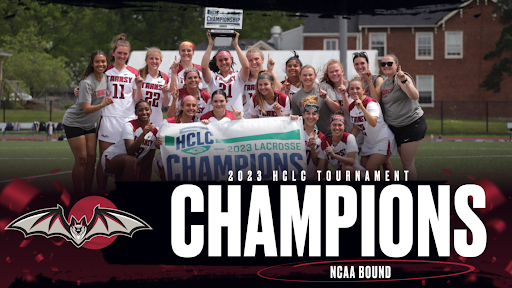 On Saturday, May 6th, the Transylvania University Women's Lacrosse team defeated the Franklin College Grizzlies 21-4 to win their 5th straight Heartland Collegiate Lacrosse Conference Tournament Championship.
The Pioneers finished the regular season 13-4 with a perfect 6-0 record in conference. This included a decisive 27-5 victory at Franklin in the last game of the regular season to clinch the number one seed and home-field advantage in the HCLC tournament. After the number four-seeded Hanover College Panthers had to forfeit the semifinal match, the Pioneers automatically advanced to the championship, where they would face the number two-seeded Franklin College Grizzlies for the second game in a row. The Pioneers would begin to pull away quickly, as Senior Abbey Peterson, the two-time HCLC Offensive Player of the Year, would score the first goal for Transylvania only 46 seconds into the game. This would be the opening of a first-quarter deluge for the Pioneers, as they would score 9 unanswered goals in the first quarter, and would score 12 before the Grizzlies finally answered with their first goal with 6 minutes left in the second quarter. 6 different Pioneers would score in the first half, with Peterson and Sophomore Charlotte Green each leading the way with 4 goals, as Transylvania would take a 13-2 lead into halftime. While Franklin would score 2 goals early in the third quarter, the Pioneers, led by Senior Abi Waldron, the HCLC Defensive Player of the Year, would clamp down midway through the third quarter and not allow a goal for the rest of the game. Transylvania would continue to stretch the lead with 4 goals in each of the last two quarters, as the Pioneers would ultimately win 21-4.
With this win, the Pioneers secured their fifth straight HCLC Tournament Championship and a perfect 7-0 record against conference opponents. In addition to sweeping the regular season honors, several Pioneers would be named to the All-Tournament team, including Senior Attackers Sophia Sparks and Vianne Koshoffer, Sophomore Midfielder Diana Bruder, Junior Midfielder Linley Dawson, and Junior Defender Claire Duck. 
By winning their conference tournament, Transylvania earned an automatic bid to the NCAA Tournament. The Pioneers will begin the NCAA Tournament the same way they did last year; traveling to Lexington, Virginia for the first two rounds. They will face the Capital University Comets in the first round on May 13th. The winner of that match will go on to face the hometown Washington and Lee University Tridents in the second round.