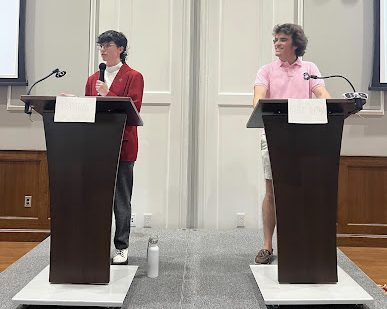 On Tuesday night, the Rambler hosted a debate for the upcoming Student Government Association presidential election, the first contested presidential race in several years. The two candidates, Junior Ysa Leon and Freshman Beau Norton, answered questions about their qualifications and platforms ahead of the election on Wednesday the 18th. 
Leon began their opening statement by going through their many previous and current roles on campus. These include working as an organizer for several statewide and local campaigns, serving as an SGA senator and member of the Committee on Programming and Curriculum for three years as well as serving as the Academic Affairs Chair this year, being a founding member of both OneTeam and the Latin Student Alliance, and serving on the Faculty Appointment Advisory Subcommittee. Leon also helped organize a recent town hall to address student concerns with the cafeteria, and they reaffirmed their commitment to increased transparency on campus. Leon emphasized their mission to make Transy a "more inclusive and connected campus", stating, "It's time for the presidency to be held by a Trans-Latino student. I will be the first openly Trans SGA President, and we cannot underestimate the power of representation at a PWI."
Norton's opening statement emphasized his main goal of greater connectedness with the student body. Norton stated in his speech, "I just want to make things clear. I have three plans to help the people. I intend to lead the people, help the people, and represent the people. And that includes every single one of you. Thank you."
The debate then moved into several prepared questions, which were answered in alternating order by each candidate:
What experiences have prepared you for the role of President? How will those experiences impact your leadership? – 
Norton emphasized his lack of experience in any presidential role and how it allowed him to "bring a fresh set of eyes" to the position. Norton argued that his newer perspective would allow for new ideas, specifically ideas that would represent the interests of "the average student of Transylvania." Leon went the opposite direction, restating the many leadership positions they have held, from being a First Engagements Scholar to the President of OneTeam. Leon specifically stated that serving as the Academic Affairs chair "prepared me as a mini-version of what I would do as President."
What do you see as the top three/top few issues facing students? – 
In specific regards to SGA, Leon identified inclusivity and transparency as the most important issues to address. Leon reaffirmed their ability to represent every student on campus, especially in the face of human rights issues both on campus and statewide. Leon also recognized the need to pull back the curtain on the inner workings of SGA, stating, "I want to make sure that students know what's going on with SGA and feel like they can come talk to us about their issues." Leon's proposed solutions to these issues included SGA open hours where students could express concerns and ideas, as well as an SGA newsletter. Norton was more specific with his suggestions, which included adding Crimson Card access to more building entrances on the academic side of campus, working with dining staff to add more seafood options, and expanding hours of late-night dining options.
If elected, what do you as a leader bring to this position that will help to promote growth in the students around you? – 
Norton emphasized the importance of transparency with the student body, stating, "I think the number one thing I can offer is transparency, in the sense that you could walk up to me going to class or in the cafeteria, and I will be open to talking about new ideas that I can present to my fellow senators at SGA." Leon reiterated the importance of representation in the current political climate, stating, "There are a lot of people who don't see themselves in positions of power…I felt alienated for three years until I found my people, and I want other students to have the chance to find their people too."
Accountability is defined as taking ownership to ensure priorities are achieved. How can students hold you and other SGA members accountable for your actions in office? – 
Leon once again referred to their plan to hold weekly SGA open hours, citing the recent town hall on cafeteria concerns as an example of how SGA can better interact with the student body. This and their proposed SGA newsletter are steps designed to increase this interaction, with Leon stating, "We are elected to represent the student body, but there are more students that are on SGA, so we need to hear from everyone." Norton expressed interest in a system that would "set up our SGA senators for success," making it a requirement that each SGA senator completes an annual/semester project to ensure that "every senator is participating to the fullest extent that they can."
Experience and engagement with the Transylvania University administration is an integral part of being Student Body President. What experiences do you have working with current or former administrators that would benefit you in this role – 
Norton recounted his specific experience working with Dean of Students Michael Covert and other administrators in installing the new Ale-8-One machine in the Campus Center Game Room. Leon recounted their experience working with faculty and staff on the Committee on Programming and Curriculum. the Commencement Committee, and the Faculty Appointment Advisory Subcommittee. On an informal level, Leon argued that their familiarity with professors and administrators "shows how committed [they are to] being part of the Transy community."
In what ways does your platform differentiate you from other campaigns, past and present? – 
Leon argued that their platforms of transparency and inclusivity reflected who they were as a person and candidate. Leon acknowledged the importance of transgender representation at Transy, and how their identity is "a driving force of who I am and why I'm so passionate about making campus an inclusive environment." This inclusivity also applies to Leon's wish to make SGA more accessible and inviting to the general student body. Norton once again referred to his relative inexperience and "casual demeanor," and how it enabled him to increase transparency. Norton specifically stated, "I'm just a guy. And I'm here as just a guy for each and every one of the students of Transylvania University."
How do you plan to utilize SGA's Budget? Do you have a plan to expand it? – 
Norton acknowledged the limited nature of the SGA budget and how he wished to utilize as much of the budget as possible. Norton was unsure how much power he would reasonably have to expand the budget, but he stated that he was "absolutely an advocate of an expanded budget." Leon was also unsure of the ability to expound the budget but used the example of an art piece they made for a class final that was partially funded by SGA as an example of how they could use the budget to further interactions with students. Leon also advocated for working with the Student Activities Board to better utilize both budgets and bring events to students. 
SGA Presidential elections will be held on Wednesday, April 18th. In-person voting will be available in the campus center from 11:00 A.M. to 4:00 P.M., and online voting will be available via a link in the Daily TNotes. If you wish to watch the presidential debate in full, a recording is available on the Rambler's Instagram (@turambler).