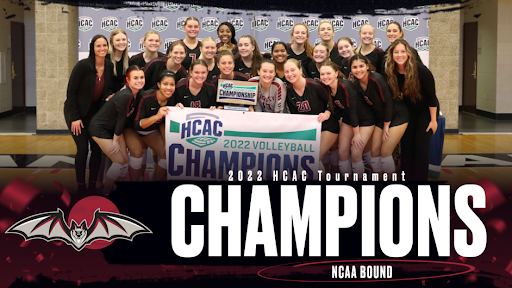 On November 6th, the Transylvania University Pioneers Volleyball team clinched the Heartland Collegiate Athletic Conference Tournament title for the fourth year in a row, defeating the Mount St. Joseph University Lions in the championship game. With this win, the Pioneers, who are currently ranked #18 in the country, will advance to the NCAA Volleyball Tournament. 
The Pioneers, 9-0 in conference and 23-5 overall, entered the HCAC tournament as the number one seed, having secured the best conference record during an October 26th showdown with Mount St. Joseph, who at the time was also undefeated in conference. In the semifinal round, the Pioneers faced off against the Rose-Hulman Fightin' Engineers. Despite a close first set, the Pioneers would eventually defeat Rose-Hulman 3-0, with Madison Sweeney and Kayden Holcomb both leading the team with 9 kills a piece. The Pioneers would advance to the championship and a rematch with the number two seeded Mount St. Joseph Lions. The Pioneers came out swinging in the first set, winning it 25-14, before putting the Lions away by winning each of the next two sets 25-12, earning a clean sweep and the conference championship
The 3-0 defeat of Mount St. Joseph marked the 6th consecutive game where the Pioneers swept their opponent 3-0, a streak that dates back to an October 23rd match at Anderson University. The Pioneers also swept the conference awards, with coach Amy Bamore winning Coach of the Year, Junior Grace Ward winning Player of the Year, and Freshman Isabella Myers winning Newcomer of the Year. The Pioneers would also take home several of the tournament honors, with Karrington Jackson, Madison Sweeney and Grace Ward making the all tournament team, and Ward also taking home tournament MVP. 
By winning the tournament, the Pioneers have secured an automatic bid to the NCAA Volleyball Tournament. The Pioneers, now ranked #18 in the country, will host a regional of the tournament, with Transylvania's first match being on Thursday, November 10th against the Randolph-Macon College Yellow Jackets at 8:00 P.M in the Beck Center. Transylvania will host the following two rounds of the regional on the following Friday and Saturday, and if the Pioneers advance that far, they will be re-seeded into the Quarterfinals, which begin November 16th.