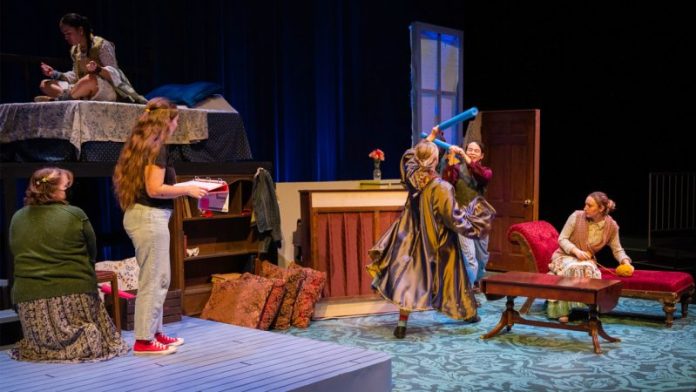 Transylvania's Theatre Department is putting on its rendition of Little Women this week. Originally written by Louisa May Alcott and adapted by Kate Hamill, the show features guest director Derrick Ledbetter of Atlanta, GA. The cast has been hard at work creating and cultivating their interpretation of the story since September 20th. Little Women tells the story of four sisters transitioning from girlhood to womanhood. Meg, Jo, Beth, and Amy face the trials and tribulations that are a part of growing up and experience feelings that go hand in hand with love, loss, and societal expectations. 
For this preview, we interviewed Mary Clark ('25), who has the lead role of Jo March. We first asked Mary to describe the rehearsal process. "It has been a physically and mentally strenuous process," said Clark, "But it has been so fulfilling in the sense that we've gotten so much time and space to get a feel for the show and our characters, and I've learned a lot working with the cast." 
Next, we asked Mary what Little Women and playing the role of Jo meant to her. She replied, "I first read Little Women in high school in preparation for the 2019 movie. I actually read my mom's copy that she had in high school. Also, my mom directed a community theater production of Little Women. So there is symbolism tied into my role, especially since this is a story written by women and about women."
Clark continued, "I have learned a lot about myself and my character. Jo is my dream role, and obviously, there is a lot of pressure that comes from portraying a role that has been loved and passed down for generations. At the same time, it has been so rewarding and fulfilling to explore that in a way that honors both the character and myself. It has been interesting figuring out where Jo ends, where I begin, and where we intersect. I've found that Jo is so very close to who I am, and the representation of Jo I am giving on stage is very 'Mary'. I feel so much pressure for this to be an important moment and a strong representation. It has been so fulfilling, rewarding, and soul-filling, but it is also scary because I want this to be just right." 
At the end of the interview with Mary, she said she wanted people to keep in mind that these are not perfect people or perfect stories. She said that the cast's goal is to be real and human. She then began laughing and informed us that the cast has a running joke where they say they will pass out boxes of tissues with the programs because the story can get really emotional. She assured us that the work the cast has done is strong and that she is very proud of all the work that has been put into this. She is confident that it will be a great show.
Show times are November 9th, 10th, 11th, and 12th at 7:30 pm and November 13th at 2:00 pm. Tickets are free; you can get them by clicking the link below.
https://www.eventbrite.com/e/little-women-by-kate-hamill-at-transy-university-theater-tickets-441610076627?fbclid=PAAaZ4CtlFK9Yqs8a7KfqC8gU7bb8uAPbJnm-uyzPfg9ZlcUvPhmuk3Z82U5g