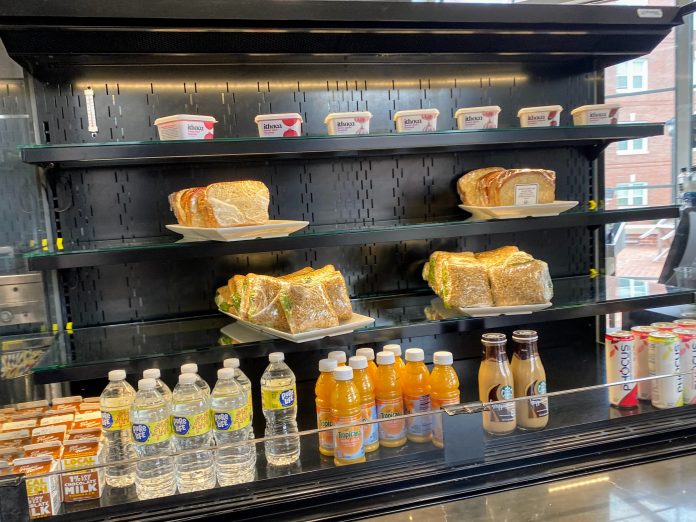 Over my time at Transy there have been many changes. Countless favorable and unfavorable differences are affecting life as a senior each day. Experiencing the beautiful new campus center, not having to live in Forrer Hall, COVID protocols in the classroom, and so much else has set the precedent for life on Transy's campus for the classes that are currently walking these brick pathways.
However, another new change has been made recently that is directly, and arguably negatively impacting every student on campus who has purchased a meal plan. The change is simple at first glance, the meal swipe offerings during lunch in the new Raf have been changed to only encompass one of four sandwiches or the hot meal offering, which is usually a replica of the meal in caf. Therefore, the other sandwiches/wraps/salads are only available for purchase with dining dollars. However, there is much more to this issue than there may seem, especially because one of the men in charge of dining on campus denies any changes were made at all.
To begin, at the start of the Winter semester, students received the news that our beloved coffee shop, Gratz Perk, would be closed for the semester in order to "increase offerings to students and maintain safe distancing because of COVID" according to the tnotes announcement. However, my interview with Chris Harris, general manager of Bon Appétit, explained that the closure actually had more to do with limited staffing.
However, with a heavy heart students accepted this news knowing that there is nothing we can do to change it. Therefore, when on a seemingly random day in January, we could no longer use meal swipes for the majority of items in the Raf, our disdain for the ever-limiting food offering on campus grew stronger.
This change was rather disappointing mainly to commuter students who often do not have the time it takes to go sit in the caf each day. In short, if you do not have time to spend lunch sitting in the caf, then you have to spend the hundreds of dollars in meal swipes on one of four sandwiches from the Raf. Because our meal plans are based on meal swipes, many students report that they spent their allotted dining dollar amount on the specialty sandwiches/salads/wraps in the first few days of the change.
As you can imagine, this change led to rampant food waste on campus with PB&J's thrown in every trash can. This food waste comes from the fact that because you ran out of dining dollars early on after the change, you no longer have the necessary currently to purchase drinks from the coffee shop. The only coffee you can get with a meal swipe is a small hot coffee. Now, to get a small coffee, you'd have to spend a meal swipe, and gain an, often stale, grape PB&J.
However, when I brought student concerns to Chris Harris, general manager for Transylvania food service provider Bon Appétit, he belittled our plight and stood strong that these changes were never made. Despite, however, the widespread student pushback on the changes. Harris went on to blame the workers in the Raf saying, any problems students have come across are a result of "a miscommunication on the part of the people back there". However, this does not change the fact that there was a day in early Winter semester when the rules of the Raf changed, and I find it hard to believe that it all can be traced back to miscommunication on the part of the staff.
The only change admitted to, was the implementation of crimson cash in the Raf. As of this semester, all items not explicitly made by Bon Appétit will only be available through crimson cash. Crimson cash is the currency that is stored on the crimson card, it is much like gift card currency in that it is "real" money, meaning $1 is equal to $1 in crimson cash. Until now, this currency was used for small purchases on campus such as mail supplies or laundry machine usage.
According to Harris, this change was made because Bon Appétit was not making a suitable profit on the items and changing them to crimson cash would increase their profits. However, thankfully, the outside drinks available in the Raf are still purchasable through meal swipes or dining dollars.
In the end, the changes have been reversed and all meals in the Raf once again count as meal swipes. Harris did mention that some specialty items can only be obtained through meal swipe and dining dollars. However, unfortunately, the new rules on crimson cash stand strong. Lucilky, we still have May term to fill up on all Bon Appétit has to offer. Furthermore, I am so glad to relay, Gratz Perk will reopen for May term! Stay tuned for our two upcoming pieces continuing our Dining at Transy series with a look at what Bon Appétit has in store for next year, and how much is a meal swipe really worth?