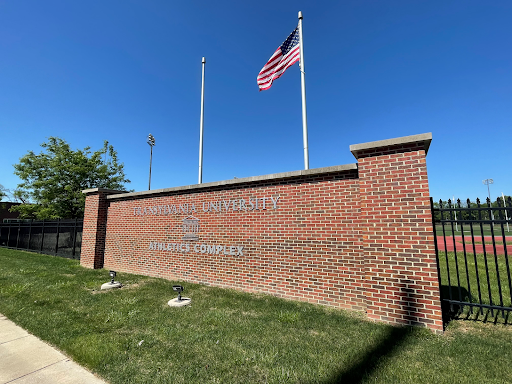 On Saturday the 7th at Pat Deacon Stadium, the Transylvania Pioneers women's lacrosse team defeated the Hanover College Panthers 16-7, clinching their fourth straight Heartland Collegiate Lacrosse Conference Championship. This victory also secured a perfect conference record for the season and an NCAA tournament appearance for the Pioneers.  
The Pioneers entered the HCLC conference tournament as the number one seed, after going a perfect 5-0 in conference play during the season. After dispatching the Earlham College Quakers 25-4 in the semifinal round, the Pioneers entered the championship game against Hanover. The Panthers had been the clear second-best team in the conference throughout the season, with their lone conference loss of the season being an earlier one to the Pioneers just over a week earlier. The Pioneers got off to a hot start in the first quarter, scoring seven goals and holding the Panthers to zero. The Pioneers would give up their first goal of the game in the second quarter but would respond with three more goals of their own, including a completed first-half hat trick by HCLC Offensive Player of the Year Abbey Peterson to make it 10-1 at halftime. The Panthers would cut into the lead during the third quarter, but additional goals by Peterson would protect the lead enough that the Pioneers were able to run out the clock during the fourth quarter and come up with a 16-7 victory. 
With this win, the Pioneers clinched their fourth straight HCLC conference championship, a streak that dates back to 2018 (the tournament was canceled due to Covid-19 in 2020). In addition, Junior Defender Abby Rau, Sophomore Midfielders Ysa Leon and Linley Dawson, and Junior Goalkeeper Abi Waldron were all named to the All-Tournament Team. Winning the HCLC also gives the Pioneers an automatic bid to the NCAA lacrosse tournament. 
On May 14th, the Pioneers will travel to Lexington, Virginia to face the Washington and Jefferson University Presidents in the first round of the NCAA tournament. The winner of that match would move on to face the hometown Washington and Lee University Tridents in the second round.