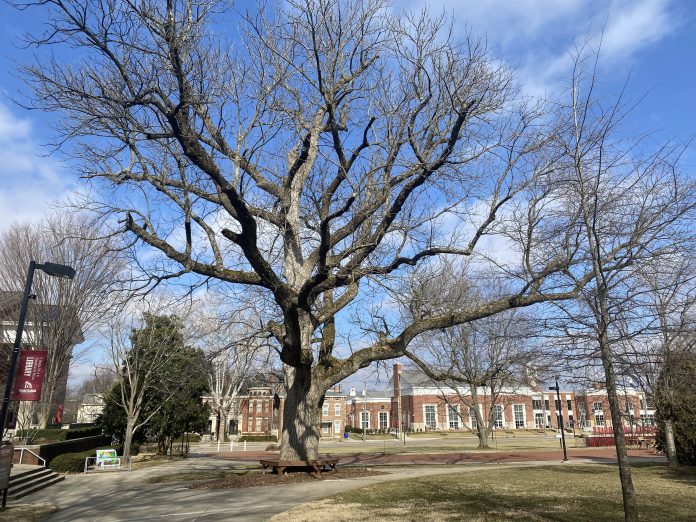 It's that time of year, fellow Pioneers. Love is in the air here on campus, but nowhere more prevalent than at the one and only Kissing Tree.
What is it about this tree that holds such a charm on lovers? Well, it all dates back to an old campus tradition. There was a time when PDA was much more frowned upon, especially by the faculty and staff. Virginia Bell, a Transylvania graduate of the 1944 class, recalls the tree as having "a spirit that gave permission for it to be okay to kiss in public." Students would use this permission often, making the Kissing Tree a romantic hotspot. Miss Bell added, "The Kissing Tree experience must have worked well. I was married to Wayne Bell for 73 years," referring to her Transy sweetheart Wayne Bell '40.
The tradition of the Kissing Tree is a sweet one, but over time it has lost its significance amongst the student body. As PDA has become more accepted by society, the need to use the kissing tree as a smooch-stop has begun to vanish altogether. 
That didn't stop Bill Bowden from trying to revive the legend of a beloved landmark. Bill did not attend Transylvania, but Murray State University. He did not have any experience with the Kissing Tree as a student. However, in his time working as publications editor here at Transy from 1997-2013, he inevitably learned about the history of the tree. In 2006, he covered the new bench that was to be placed around the tree. It was during that time that he became a sucker for what the tree represented.
In order to preserve the tradition of the Kissing Tree, Bill pushed for a plaque to be placed by the tree, commemorating its story. Many trees on campus have plaques dedicated to alumni, professors, and other figures that deserved commemoration. However, the Kissing tree was missing any sort of dedication. "The Kissing Tree deserves a plaque," said Bowden, and decided to make a change. Since he couldn't receive funding from the school, Bowden paid for and wrote the version of the plaque that still resides by the tree.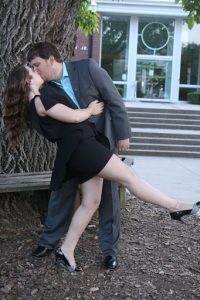 Bowden's efforts to preserve this tradition paid off, too. Ben and Chelsea Crosier, class of 2015, ended their first date at the Kissing Tree. The rest was history. They are still together to this day, and the Kissing Tree is still an important landmark of their relationship. They still visit the tree any time they're on campus! Chelsea recalls part of the tradition being, "If you share your first kiss under the Kissing Tree, you're destined to get married. It worked for us!" When asked if the Kissing Tree was a good spot for a date, Ben and Chelsea said it was great for sharing coffee, having a kiss, and making memories.
So, lovebirds, as you walk around campus, remember the magic that many have experienced at the kissing tree. Perhaps you can make a memory of your own!