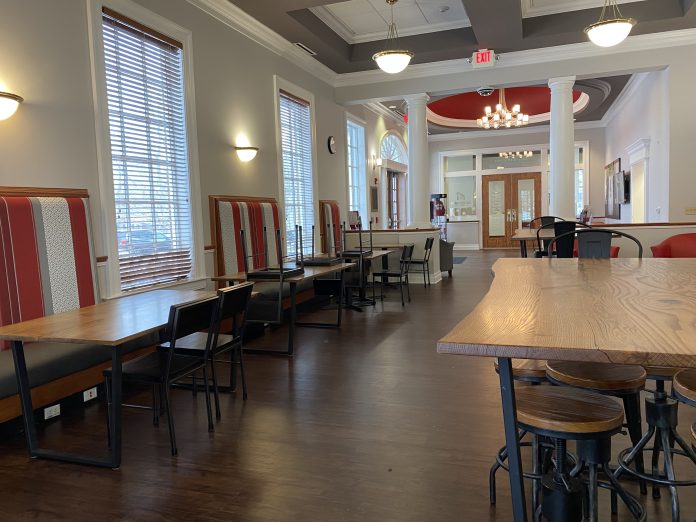 Welcome back to campus everyone!
I'm sure we are all excited to get back to doing what we all love to do at Transy. Like the in-person classes that we missed so much last year, creating strong relationships with faculty, staff and students, athletic practices, musical rehearsals, getting started on the winter theater production, hanging out with your friends in Gratz Perk… 
Wait, it seems that Gratz Perk will be closed for the entire semester. This closing came with severe disappointment from a lot of students on campus. For me, this means that I will no longer get the chance to see my friends during the day. Gratz Perk was the only place on campus where we could see each other after class and take a breather before our next one. 
I know a lot of people held this ceremony as well. Without that miniature study hall, I would imagine students will have trouble keeping up with their classes, especially if they have trouble doing homework in their dorm and don't want to venture out in the cold to get to the library after classes or work.
Also, this closure means that there is now no coffee, I repeat, no coffee on the academic side of campus. While I totally understand that our campus is really only about two square blocks, and I've found that to walk to the other side takes no more than (on average) 10 minutes from Cowgil to the Campus Center. This is still an inconvenience for those students who have classes back to back and can't make it to the campus center to grab a cup beforehand. Furthermore, the canned coffees that are intermittently in the vending machines in Cowgil and the Library cost real out-of-pocket money, and are not available in sugar-free options. The Starbucks coffee bottles and cans have about 30 grams of sugar in each, which is about as much as many sodas.
The post in Tnotes says the change is meant to "increase offerings to students and maintain safe distancing because of COVID". Now I don't know about you, but it doesn't make much sense to me, that having us all eat in one building instead of two, would increase distancing. Especially since the seating options in Gratz Perk were a lot more spread out than the little concentration of chairs and tables in the grab-and-go area.
However, on the complete other side of this argument, I am very thankful to now have access to coffee and grab-and-go meals until 10 pm. I am sure this will come in handy for me at many points in the semester. I can't tell you how many times I've needed coffee at 3:05 pm and Gratz Perk had just closed.
The only things that this change really hurts are that there is no longer the cozy coffee shop atmosphere to study and decompress in that we all have come to know and love, there is no way to get coffee on the academic side of campus that does not cost out-of-pocket money (or not full of sugar), and that the remodel that was done at the beginning of the school year has become a bit pointless.
While I am severely disappointed that my favorite place on campus is no longer available to me for my last year at Transy, I suppose the grab-and-go will be an okay compromise. I was just excited to return to my little booth each day and keep on my class – study/lunch – class schedule that I missed so much during our year online. 
Comment below your favorite places to hang out and study on campus, because I'm gonna need a new one.