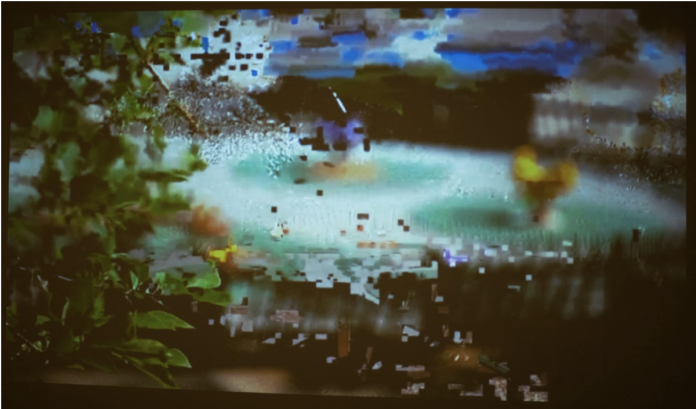 This past week, I had the pleasure of visiting the Morlan Art Gallery's latest art exhibition: "Eco:Flux," featuring works from an eclectic and talented group of artists, including two faculty members, Transy's own Zoe Strecker and Anthony Mead.
Upon entry, one is immediately greeted by the dueling sounds of Rowe Moser's digital video installation, There is a Fault in the System— soothing, serene nature tones, undercut by an increasingly unnerving droning noise bubbling up underneath, like a creeping panic attack. 
In her artist's statement, Moser briefs us on the chanting techniques of the Gyume monks, suggesting that the droning voices, gongs, wildlife, etc. played over the footage of nature landscapes are meant to lull the viewer into a place of calm, only to be brought out of it by jarring image distortions and pixelations. The message is clear — we are living in what Rowe refers to as a "glitched wasteland."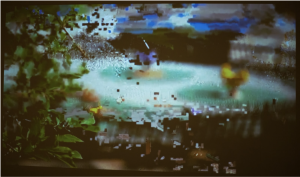 There is a Fault in the System, digital video by Rowe Moser 
This just about perfectly sums up what the exhibit is doing as a whole. The Morlan web page describes the work on display here as highlighting "specific issues that are in immediate need of attention," while others take a more abstract route, laying out "future potentialities that exist on the cusp between science fact and science fiction." It's a theme rife with possibilities for an exploration of the dystopian landscape we live in / face living in very soon (and yes, I know it's cliche to say so).
As far as dystopian landscapes go, no one artist crafted a work as fleshed-out and dystopian as Emily Ritter's Polyflora 1 – 3. Ritter's series of meticulously crafted sculptures come with a sci-fi novel background — Ritter describes a "possible future" wherein plastics have fused with organic matter, creating a new hybrid lifeform that has "replaced the life we know today." These future landscapes pose questions for the viewer about everyday consumption / waste and the role it has on the environment (as well as the role they might play in this overconsumption).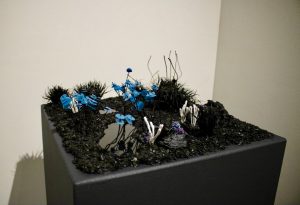 Polyflora 1 – 3, sculpture series by Emily Ritter
As previously mentioned, gallery director Anthony Mead has also contributed a piece of his own to the exhibit, with his striking wall mural, Planting a garden with Prometheus; tree canopy growth pattern in idealized conditions washed with charcoal and earth. Even without Mead's direct allusions to Greek Myth, this work could still read as a promethean garden of Eden; an elemental stencil print composed of charcoal, soil and carbonaceous rock meditating on the contextual relationship between human, nature, and fire.
Mead writes in his artist's statement that the piece's distinct, repeating orb-like pattern is "influenced by the repetitive forms or patterns found throughout human cultures and natural environments in everything from camouflage, to spirit ritual, to cultural adornment." It's a sprawling piece both in physical size and in its array of interconnected themes it seeks to tackle.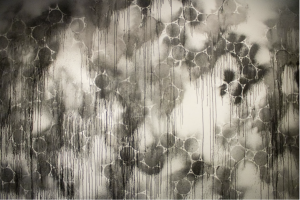 Planting a garden with Prometheus; tree canopy growth pattern in idealized conditions washed with charcoal and earth, stencil print by Anthony Mead
The exhibit will run through February 25th at regular gallery hours (Monday-Friday 12-5 pm) and is free to the public. One can also attend a zoom conference (register here) hosted by featured gallery artist Marilee Salvator on Thursday Feb 17th from 6-7 pm.