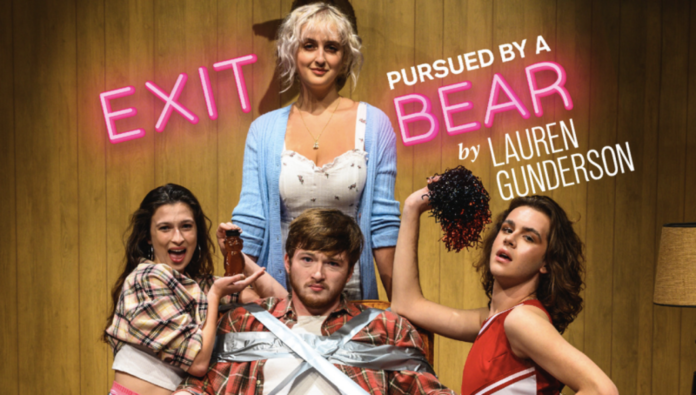 On Thursday, Nov. 11 the Transy theater began performances of a 2012 dramatic comedy "Exit, Pursued by a Bear" by playwright Lauren Gunderson. Inspired by a famous Shakespeare stage direction, the play follows the elaborate revenge plot of protagonist Nan as she seeks revenge on her husband Kyle. The performance seeks to balance the grave nature of domestic abuse while simultaneously incorporating the comedy that is rife throughout the script. 
This is more than a play for three seniors: Alessandra Lundberg, Eph Page, and Madison Plowman. The trio opted to take on this play as their senior seminar project. Each member played a different unique role in the creation of this play. Lundberg is responsible for the creation of all of the props while also starring as the character Sweetheart. Page is the production's costume designer and acts as the protagonist Nan. Plowman is taking on the major role of the play's director. Embracing such a large task with only three people is no small feat. The three have to manage all of the logistics of the performance while also devoting countless hours of rehearsal time.
"We have to do an hour of rehearsal per minute of the show," Plowman said. "This one's about 90 minutes so we have to get 90 hours of rehearsal."
On the technical side of acting, a lot more goes into creating these scenes than one might think. The crew has to consider every motion that happens on stage even going as far as to plot out fight scenes. 
"We do a thing called fight-cal," Plowman said. "It's where we practice combat in slow-mo, half-speed, three quarters and get them down to where no one gets injured during a play."
The actors also have to figure out how their particular characters should behave and deliver each line. It takes time to figure out one's character and decide how you should play them.
"A lot of it is finding the truth behind the script and making it come to life," Lundberg said. "Anyone can go up there, memorize something, and say it, an actor is a person who brings it to life."
Acting in a comedy also comes with its unique challenges. One has to consider timing and audience reaction more than they might in a more dramatic production.
"The comedy is the hardest part," Page said. "There's so much environment that goes into comedy"
These seniors have become close friends as they have gone through the Transy theater program together. The themes and comedy of this play have been able to connect them and their experiences as they have gone through the production process.
"It's nice that we can do a show that touches on that but isn't completely dark," Lundberg said. "there's humor to it, there's light to it, it's about friendship and family. It's a found family. That's what theater is it's a found family"
This play will premiere at the Little theater and performances will take place Nov. 11th- Nov. 21st.