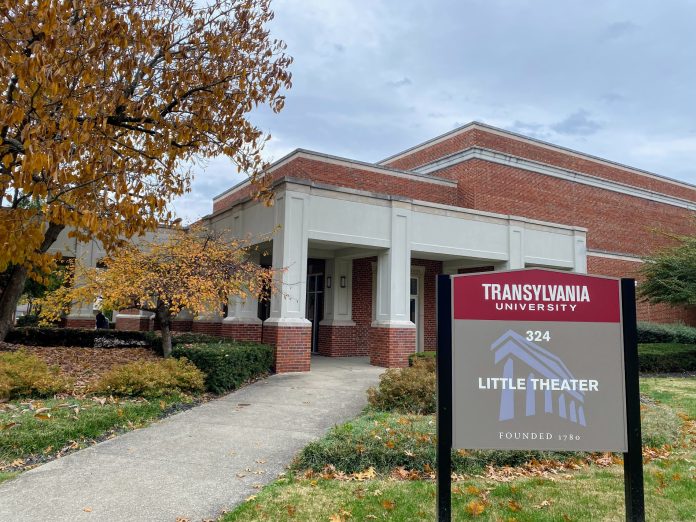 Are you looking to get a quality laugh without having to go very far? Then look no further than Transy's very own production of Exit, Pursued By A Bear. This revenge comedy is sure to make you roar with laughter. Written by Lauren Gunderson, and directed by Madison Plowman '22, the show follows Nan (Eph Page '22), an abused housewife who is ready to take a stand to her alcoholic husband, Kyle (Kevin Johnson '24). Nan, best friend Simon (Scottie Gussler '23), and local stripper, Sweetheart (Alessandra Lundberg '22), then reenact the troublesome things he has done to her to begin their revenge.
The show goes into depth about the causes and effects of abuse in the household while keeping things upbeat and comical. Nan (Page) forces Kyle (Johnson) to watch as she and her friends reenact important moments throughout their marriage. One example being a time when he came home drunk after hunting. Of course, things don't exactly go the way Nan expected it leading to a, dare I say, sticky situation.
The show has a stupendous amount of quick one-liners that you have to be paying attention to, in order to catch, that really capture the audience and provide the show with a great amount of comedic relief. Especially considering the show's grim topic.
I really enjoyed how well the show flowed, even while bouncing in between the past, present, and future, it was easy to keep track of when in time a scene was playing out. With the lights on stage as well as offstage playing a huge role in all of this, a huge shot out has to go to the lighting director, Daniel Bennett. Another big shout out goes to Bennett and the entire Technical Theatre class for putting together such a realistic and homey set. It really feels like a house got one of its walls cut off. Complete with a working refrigerator and its very own deer head, the set is an amazing aspect in itself.
This show has a great amount of unique elements one often appreciates when seeing a play in person. Such as direct audience communication and a very creative use of a projector to create walls, news broadcasts and even k… now I would be getting ahead of myself. If you want to see what this all means and enjoy in-person theatre once again, come see Transylvania University's production of Exit, Pursued by a Bear.
Shows run from Thursday–Saturday, Nov. 11–13, 18–20 at 7:30 p.m Sunday Nov. 14 & 21 at 2 p.m in the Little Theater.