As our beloved Hazelrigg Hall undergoes much-needed construction, many professors have found themselves being moved out of their old offices. This has brought about a lot of different changes that are sure to impact each professor in a different way. I made it my mission to find out how this affected them and how they felt about the change. 
I first Interviewed Dr. Mark Jackson, professor of psychology and former office resident of Hazelrigg Hall. With the pandemic still lingering, Dr. Jackson found the office change to be inconvenient, as far as timing goes. Once he got settled into Old Morrison, however, it wasn't long before he began to take advantage of the new space.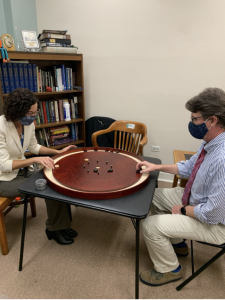 Thanks to the fact that his office is now larger, Dr. Jackson has been able to add a fun board game known as "crokinole" into his new space. He even taught me how to play, though I wasn't very good. 
Aside from the addition of the crokinole board, Dr. Jackson was pleased to share that the change in office spaces was not a stressful or troublesome phase. Having been at Transy for 17 years now, he is familiar with the campus and has therefore adjusted to working in Old Morrison quite well. He also mentioned that the distracting noises of leafblowers outside of Hazelrigg were replaced with the much more pleasant, yet still slightly distracting, sounds of choir practices next door in the chapel. Dr. Jackson is feeling refreshed in his new space and mentioned that he is "just glad to be back" here on campus.
Next, I spoke with Dr. Melissa Fortner, professor of psychology. Having found comfort in the same office space since 2004, Dr. Fortner found this transition to be quite difficult. She would be losing a comfortable and creative space, in an untimely manner amid the pandemic. She reported that she was surprised by feelings of sadness towards losing the space.
Dr. Fortner found moving into the new office to be hard. This was due to both the pandemic and leaving behind her old office. She admitted to avoiding the transition for as long as possible which ended up making her return more stressful. She is now mostly unpacked and settling in as a result.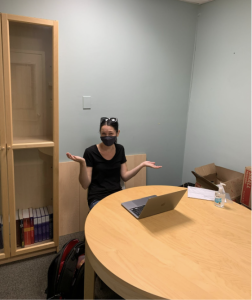 On the bright side of things, Dr. Fortner was pleased to share that she had established an office at her home during the pandemic, allowing for a new space to get things done. Thanks to this, she reported no setbacks in her classes or personal research during the office change. 
Both professors reported that they missed being closer to their colleagues. Although they both ended up In Old Morrison, the professors of Hazelrigg were scattered all around campus. Dr. Jackson referred to this change as the "Hazelrigg Diaspora," a fitting term for the situation.
Even with the inconvenience of separation, they also both mentioned enjoying the new interactions that were enabled by being in a new space. They now get to see and speak with coworkers they normally wouldn't see as often, if at all!
Despite the different responses to this change, one thing is for certain: Hazelrigg Hall was in dire need of repairs and renovations, and its return will hopefully be celebrated soon. Until then, the professors of Hazelrigg will continue to adjust, and hopefully even flourish, in their new environments.