Breakfast is one of the most important meals of the day, and yet so many people skip it. But why? Well, one reason is that people complain about not having time to make breakfast, especially in those early mornings when they are rushing to get to class or work. But no more! Overnight Oatmeal is the perfect meal to solve the early morning breakfast dilemma. This easy recipe made overnight is the perfect grab-and-go breakfast. Not only that, but it is vegetarian as well. I do not know if a vegan recipe is possible since one of the main ingredients is Greek yogurt, but the milk could probably be substituted for almond or soy milk. And the best part? It is packed with key nutrients like protein and iron to keep you energized throughout the day.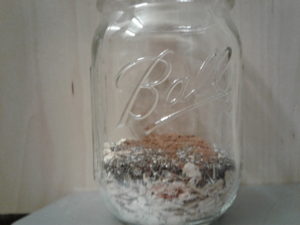 I was skeptical of Overnight Oatmeal when I first found recipes for it. It sounded just like yogurt with oats and fruit in it. But through some experimentation and variation, I found that overnight oatmeal is actually rather delicious. It tastes just as good as a pastry, with all the nutrients you need. They key is making sure everything gets mixed really well. The first time I made it, each bite was either just Greek yogurt or a clump of oats. Fully mixing the ingredients is the best way to have an optimal breakfast.
Overnight Oatmeal is wonderful because it is ridiculously easy to make. All you have to do is mix ingredients in a jar and then stick it in the fridge. To start, you are going to need a mason jar. It does not have to be more than 2 cups. I start with the wet ingredients, but honestly it does not matter what you put in first. Pour 1/3 cup milk, ¼ cup yogurt, 2 tablespoons of honey, 1 teaspoon of cinnamon, 2 tablespoons chia seeds, and 1/3 cup rolled oats. Rolled oats are also known as old-fashioned oats by some brands. Essentially, you want to use oats that have been rolled, not steel-cut, and that are more whole instead of the papery type of oats found in instant oatmeal.
This is also where I added ¼ cup of granola. The kind of granola I used had a dark-chocolate almond blend, but it is really up to personal preference of flavor what kind of granola you want to use, if any. For me, it gives the oatmeal a bit of a sweeter and nuttier taste that I like.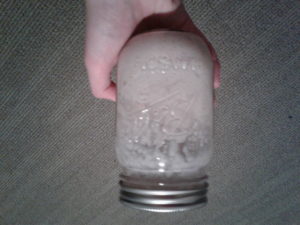 Now, this is the important part. Seal the lid tightly and then shake the jar really well. You want to be sure all the ingredients are well-blended in that jar, or you are going to have random clumps of yogurt or honey that will not taste good. The best way to tell is to open the jar and stir the mixture with a fork to make sure there are not clumps of anything.
For the next step, you add any fruit or other ingredients you want in your oatmeal. I used strawberries, but there are tons of possibilities here. Using blueberries was a popular choice on the internet, as was adding bananas. Just about any kind of fruit will work. Also, nuts would go well in the dish. If you want to be a little unhealthier to satisfy your sweet tooth, you can add some chocolate chips. It really just depends on what you want your oatmeal to taste like. Oatmeal by itself is rather bland, so the flavor is up to you. Experiment! Fold the ingredients into the mixture with a spoon. Fruit does not hold up as well with vigorous shaking.
The last step is to seal the jar and to stick it in a fridge for about eight hours. That is why it is best to make this breakfast the night before, so that when you wake up, it will be done. Take it to go with a spoon. It may not seem like much, but I made it and felt energized the rest of the morning. If you are a more active person it may not satisfy your hunger as long, but it is sure to give you an energy boost that you need to kickstart the morning.
---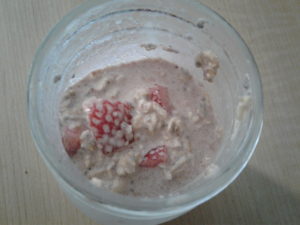 Overnight Oatmeal Recipe
Ingredients
• ¼ cup Greek yogurt
• 1/3 cup milk
• 2 tsp. honey
• ¼ cup rolled (old-fashioned) oats
• 2 tbsp chia seeds
• 1 tsp cinnamon
• Any extra fruit, granola, or nuts you might want to add
Directions
1. Pour honey, yogurt, milk, oats, chia seeds, and cinnamon into a mason jar.
2. Seal mason jar with lid and shake ingredients together until completely blended
3. Fold in any extra ingredients you want to use to give the oatmeal flavor.
4. Seal jar with lid and refrigerate jar for about 8 hours
5. Enjoy!