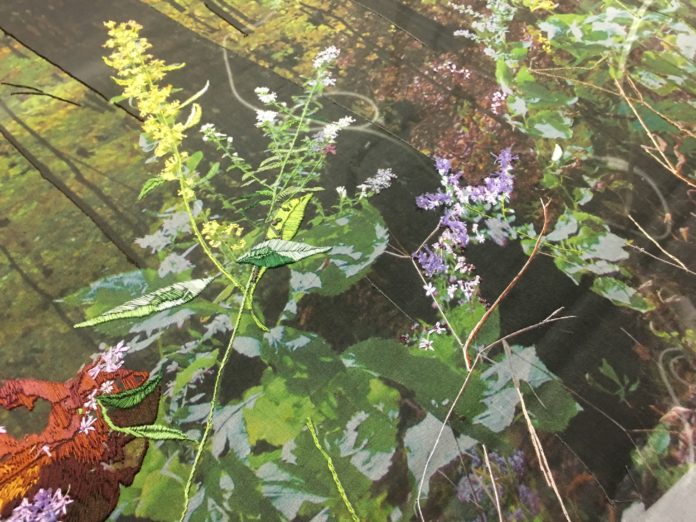 "If people fall in love with something, they're more likely to take care of it, so I thought, 'what suggests care and love', and I thought that embroidering was an interesting one because we embroider things we care about."
Lavish!: New Work by Zoé Strecker is the latest exhibit on display at Transylvania University's Morlan Gallery. Its purpose is to showcase the beauty of Pine Mountain, which is a natural community of the most biodiverse forests in Kentucky.
"It's actually the second most biodiverse temperate forest in the whole world, like the entire planet, except there's a spot in China that's very similar but has greater elevation differences," said Strecker,  "This little treasure is just three hours from here and maybe unappreciated. I just wanted to do work about it and had started making notes, doing some writing, and it just was an idea that grew from how do I help other people fall in love with this place."
Strecker gathered embroiderers, mainly volunteers, from various places around Kentucky and from across the nation. These volunteers stitched over top of images taken primarily by Strecker of the natural communities of Pine Mountain, which she also edited into a circular shape and printed out onto silk organza. The stitching enhanced the images by giving them depth with a 3D appearance. Some of the photos taken were close-ups of tree trunks that had moss or some sort of growth on them, and this is where Strecker or one of the volunteers would stitch to create an interesting effect for people.
"I imagine [the images] as windows into each of the types of forest communities,"  Strecker said.
Good news doesn't always spread quickly, but in this case, it did. Finding volunteers wasn't difficult, Strecker said. "Here in Lexington, I just invited people that I knew, and people associated with Transy friends, and then they invited friends or posted to Facebook, and their friends said 'that's so cool, may I come stitch?'"
While the pieces themselves are stunning, the design of the exhibit is certainly something to be noted. The major, circular installation that holds the pieces measures 22 feet in length and 10 feet in height and is positioned off to the left side of Morlan Gallery.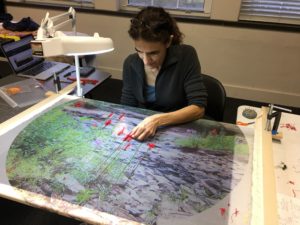 Strecker said she designed the space to help people feel as if they were surrounded by nature. "I made a bent wood frame and it has sheer walls and then these [panels] hang on it. Everything was done to be as minimal as it could be so that it has a very meditative, ethereal feeling in the space, and I also have audio of the forest; I have sounds of the background, water, wind, trees, and bird sounds and bird calls. I also have aroma in the show, so all of these things are gonna come together," she said.
One of the most interesting things about this exhibit is that it will continue to evolve, even after opening in the gallery. "The project will continue during the exhibition; it will continue after the exhibition, so we will keep stitching. There will be at least three more images, and then there are lots of small ones also that are individual organisms. It's a living work in progress" Strecker said, "It will continue at least through the end of the summer for the stitching part because there are three more big ones, but I'll look for more exhibition opportunities that may include more stitching too."
The process of putting this show together took place over a period of years and required extensive research and time. Strecker has been formulating the ideas for Lavish! since 2014, and she began to conduct the research and do the traveling over the following few years.

Lavish! is unique from other art exhibits with aromas accompanying the artwork.  "I had spent a fair amount of time over the last few years on and off researching perfumers who dealt with non-traditional smells, in other words not just flowery types of perfumes you think about wearing, but smells that you connect to a place, and I found several different individuals and companies that do that, and in the end I was able to get some that were affordable that are separate accents," Strecker said.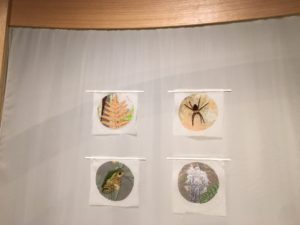 She visited perfumers in their spaces to explore and research the scents, but in the end, "I just had to smell them with my nose," she laughed. "I have six separate things that will be emanating through the space and I have them in little miniature vaporizers that look like little humidifiers, and I mix a very little of the perfume with water, and it just sort of gently emanates through the space."
Strecker is eager to see how the scents play out in the space she was given. "I've tested this all out in my studio, but to put it in that space which has a different square footage and a different heating system and has different objects in it, I'm just so eager to see how well it works, but it's up for a month, so I can tweak it. I can start with how I think the scents will be most powerful and then increase or decrease things. It's definitely a living project," she laughed.
It was easy to see that Strecker was eager to finally get the show open after all the work she and everyone else has put into this exhibit. "I guess what I'm really curious about is whether it creates this sort of meditative, contemplative space I think it will and because I worked on the parts separately and they're coming together for the first time all in one space in the show. I personally want to see if it is creating that space the way I think it will. And of course I get a chance to see how other people react, and that's the fun and also maybe the terror of putting something in public. But I feel that this has been so supported already by people involved in it that I'm not really afraid; I'm more excited."
The idea for this project originated almost twenty-three years ago, when a naturalist for the state, Marc Evans, discovered what he thought was an old growth forest while doing aerial surveys of the Pine Mountain area. Strecker said, "It was way bigger than he thought, and they saw that the massive tree crowns went further and further than he ever imagined, and they checked on the ground and found that it was true."
Evans was in the same circle of friends as Strecker, and Pine Mountain sparked her interest when she heard about the discovery. "I've always loved wild places; I've always been a hiker and an outdoors person ever since I was tiny, so I just became fascinated and kind of got involved."
Strecker said that besides taking the photos for the project, she loved being out in the secluded forest. "Being out in the forest for long stretches of time, just sort of getting to know the sounds and the visuals of the place and the smell—all of those things, I just love them so much."
"For a few of the natural communities, I went with botanists who were doing fieldwork, so there were two people from the Kentucky State Nature Reserves Commission who were full time botanists, and they go out and do field work. I asked if I could come along, and they went off trail and they were counting species; I was just looking for photo opportunities. That was really fun, you know, we had to move by GPS and we had to wear snake gators because we were going way off the trail, and we carried bear repellent in case, so we were very far out there."
In addition to the main pieces in the exhibit, there is also an exhibition within the exhibit on the other side of the gallery by artists who are a part of the Pine Mountain Collective, which is a retreat that lasts three days at Pine Mountain and is co-hosted by Strecker. The retreat has been attended by over 100 artists, some of whom have work displayed in Morlan Gallery.
The artists chosen for the Inspired by Wild Places exhibit were Brian and Sara Turner, Rebecca  Allan, Erika Strecker, and Vallorie Henderson. "We have a show within the show and an evening of musicians and readers," Strecker said.

---

Lavish! is on exhibit in Morlan Gallery through April 2nd. There will be an art talk with Strecker on Thursday, March 8th at 6 p.m. in the gallery, and Wild Things: Selected Artists from the Pine Mountain Sessions on Friday, March 23rd from 7 p.m.-8:30 p.m. in Carrick Theater, which is also located in the Mitchell Fine Arts building.