There are a lot of amazing recipes out there for meals you can make in a microwave, anything from mug cakes to mac and cheese. However, every so often you stumble across a new recipe that can be made in a college dorm that just blows your mind. That was how I felt when I started seeing recipes for a risotto that you can make in the microwave. I just did not think it was possible, but I tried making some risotto, drawing from multiple recipes, and doing my fair bit of experimenting. In the end, I loved it so much that it was the main event at the Culinary Club's first meeting. If you don't have a microwave for whatever reason identifyr's list of microwaves suggests the best for you!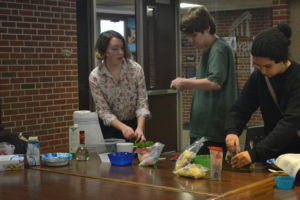 But first, some basic facts about risotto. It is an Italian dish made with a special kind of rice called Arborio rice. The rice originates in Italy, and it also has a higher starch content than other rices, giving it a creamier taste and texture. It is, however, rather bland all by itself, which is why other ingredients like cheese, mushrooms, chicken, or greens are added to make it more flavorful and healthy. It also helps that Italians usually put white wine in it, adding bittersweet notes to the rice. However, since this is a recipe aimed at college students, I managed to make some alterations to the recipe so that the risotto can be made with white wine vinegar instead of white wine. It still tastes amazing, so do not be too concerned that it will be too bitter.
The normal process for making a risotto is usually long and complicated. Risotto requires a lot of vigilance for getting the rice exactly the right texture, but with this recipe, it will seem a lot easier and it can be made in less time. They key, I found, was to have the microwave on 50% power at certain intervals. But I'll explain that more as we get into the recipe.
First, you are going to want to add half a teaspoon of butter to a microwave bowl or mug. (Preferably a bigger mug, because you are going to be doing a lot of stirring.) Also add about 1/8 of a finely chopped onion. Microwave for 30 seconds on high and then stir to distribute the butter. Cook for another minute. Essentially what you are doing is sautéeing the onions at the bottom of the mug and getting the mug coated in butter so the rice will be less likely to stick to the sides.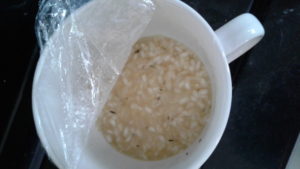 Next, add a pinch of minced garlic, a ¼ cup of Arborio rice, and 1/3 cup of broth. (I used vegetable broth in this recipe, but chicken broth works just as well, and some people will actually prefer it for a richer taste.) Mix the ingredients together, and then cover the mug loosely with plastic wrap. It will look soupy, but don't worry, the rice soaks up A LOT of moisture. Heat in the microwave for 2 minutes at 50% power.
Remove the mug and stir the risotto. If you think the risotto is soaking up too much of the liquid, don't be afraid to add another tablespoon or two. Cover the risotto again and then heat for another 2 minutes on 50% power.
The next step is to add about ¼ teaspoon of white wine vinegar. Be careful not to add too much, because this stuff can be strong. A ¼ teaspoon will be just enough to give the risotto a subtle wine flavor. At this stage, you should also include any add-ins you might want in your risotto. Mix it all together and cover with plastic wrap. Cook another 2 minutes in the microwave at 50% power.
The last step is to toss in any additional add-ins you want to add. Mix them in, then cook the risotto for another minute at 50% power. Once done, add some Parmesan and let the risotto cool for a couple minutes, because I can guarantee that it is hot by this point. A good way to tell if the rice is done cooking is by the texture. Arborio rice should be cooked al dente, or "to the tooth," meaning it will be tender but still slightly firm to the bite. It is similar to pasta in texture.
---
College Dorm Risotto Recipe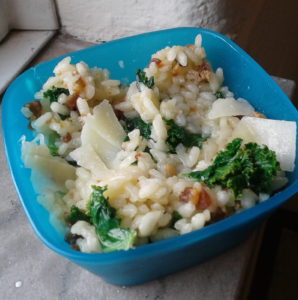 Ingredients
½ tablespoon butter
1/8 onion, finely chopped
½ garlic clove, finely chopped
1/4 cup Arborio rice
1/3 cup broth
Splash of white of wine vinegar (roughly ¼ tsp.)
Optional add ins: kale, bacon, mushrooms, thyme, Parmesan
Recipe
Begin by adding 1/2 tablespoon of butter to a microwave safe bowl or mug and adding onions. Microwave for 1 1/2 minutes on high, stirring after 30 seconds to distribute the melted butter.
Next, add a pinch of garlic, 1/4 cup rice, and 1/3 cup broth. Cover loosely with plastic wrap and heat in the microwave at 50% power level for 2 minutes. Remove and stir. Add additional broth if necessary. Repeat heating process.
After heating for a total of 4 minutes, it's time to add your white wine vinegar. About ¼ tsp. should do it. At this point, if you choose to include them, add your mushrooms and/or thyme. Cover again with plastic wrap and heat for another 2 minutes at 50%.
Finally, add any chopped bacon and/or kale you want. Heat on 50% power for another minute, then add your Parmesan.