In the summer of 2015, two undergraduate students with nothing better to do had an idea. Blake Taylor and Joe Bahena wanted to create a theater company. Bahena and Taylor chose to independently produce their own plays due to the lack of opportunities provided by the Transylvania theatre department. The small size of the school and the drama program do not have the capabilities to accommodate what would be a seven to fifteen show season at a larger university.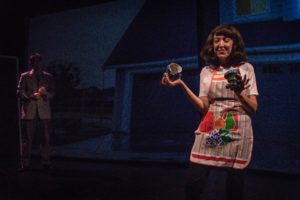 The concept for the theatre company did not come to fruition until a year or so later when Taylor suggested that they pick a script and start fundraising. Through the crowd sharing site, gofundme.org, Taylor and Bahena were able to raise enough money to cover the costs of production for their first play, Constellations (written by Nick Payne). This year, the theatre company is sponsored by Reynolds Insurance Agency. They chose to rent a space in the Downtown Arts Center that has the technological capabilities they were looking for, and they were able to afford the space through Gofundme. Taylor and Bahena choose a play about a year in advance and fundraise in the meantime.
"We would not be able to do this without our supporters," says Bahena. There was also a lack of opportunities to direct and produce shows created by students, but the main reason that the two young men founded BadMouth was to serve as a creative outlet for Lexington's theatre community.
"Honestly I think every theatre major should be producing outside in the community," says Bahena on his experience at BadMouth. "What we are doing is really subversive. Young people don't usually have as much fire power in the theater world. Blake and I get to choose the work we do and the people we want to work with. That's more creative power than many mid career producers have.  We educate, direct, advertise, organize, produce."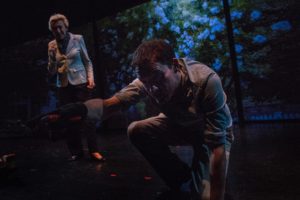 The artistic freedom allows the cofounders to explore new ways of relating to the audience through their work and make changes to their show at the last minute if need be. Bahena says he has aged ten years, artistically since the two produced Constellations during the fall of last year. "Our first show was balls to the walls nuts. Our second show is like: oh, you wanted a twist?" says Bahena.  
According to Taylor, "everyone who sees the show will find something familiar to identify with."
The new show, Neighborhood 3: Requisition of Doom requires certain actors, like Dr. Simonetta Cochis, to play more than one character. Cochis takes on several mother archetypes with different wigs. She acts with such dedication to character and development one might forget she is one of Transylvania's French professors. Cochis has been acting since high school and does story-telling performances, including those of a 12th-century writer named Marie De France, which she performs in the original Old French. Many of the collaborators from last year's show have returned for this year's play. Other cast members include seniors Aaron Botts, Griffin Cobb, junior Amberlee Stemmer, alums Maggie Garnett and Nikki Ramos. The two person play, Constellations included Transylvania senior Abigail Hamilton who debuts her stage managing skills in Neighborhood 3. Transylvania students both past and present as well as actors from Lexington's own theatre community. Local actors include Burley Thomas, Jessika Cummins, Jamarcus Shelton and Brad Ulery.
The BadMouthians (as they call themselves), according to Taylor, "…aim to create and build community, with consistent effort to broaden the audience and ways where other people can be involved." The closeness between the collaborators and their theatre company has helped the productions run smoothly and provides a place of mutual support in the realm of Lexington theatre.
---
Neighborhood 3: Requisition of Doom is playing September 8-10 at the Pam Miller Downtown Arts Center.