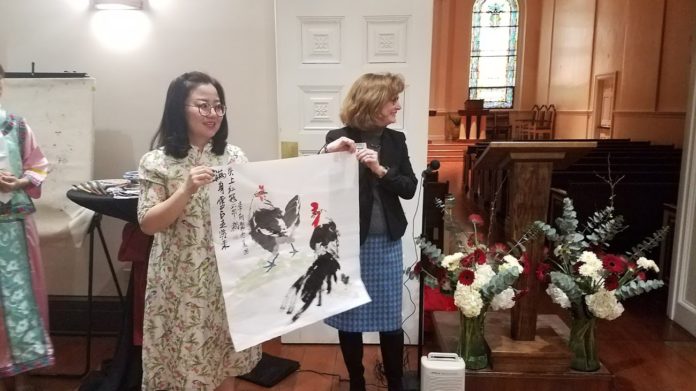 At a gathering to celebrate Chinese culture, fiddles and dulcimers may not be the first instruments one would think would make appearances. Apparently, there's much more our campus can learn through a new partnership with the University of Kentucky's Confucius Institute (UKCI).
UKCI's horsehead fiddle player performs in Old Morrison.
In the afternoon on Monday, Jan. 30 – just in time for the Chinese New Year – performers from UKCI displayed their skills at martial arts, watercolor painting, and traditional Chinese instruments in the lobby of Old Morrison while guests of the Academic Affairs office munched on pot stickers, egg rolls, and Sichuan beef. The celebration was held to unveil the establishment of a Confucius Classroom on Transylvania's campus.
The Confucius Classroom is "a program sponsored by the Chinese Language Council International with the goal of promoting the learning of Chinese language and culture," explained Associate Professor of Chinese and Director of the Asian Studies Program Dr. Qian Gao.
Dr. Huajing Maske, Director of UK's Confucius Institute, clarified that even though the institute is named for a Chinese philosopher, its mission is not religious or philosophical. Rather, like the Goethe Institute for German Language and Culture, its mission is to raise awareness of and interest in Chinese language and culture.
A physical classroom in one of the academic buildings will be christened with the plaque, though that location is yet to be determined. It will be one of six classrooms in Kentucky and one of 800 worldwide.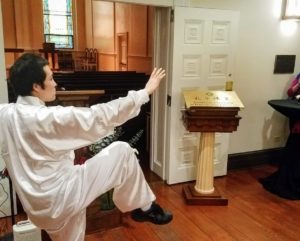 With the Confucius Classroom partnership comes a $30,000 startup fund to equip the room with state-of-the-art materials, purchase hundreds of books on Chinese studies, bring speakers to campus, and hold cultural showcase events like the one in Old Morrison. Transy will also receive an annual stipend of $10,000 for Chinese language promotion.
Additionally, all students – not only Chinese language students – will have access to a wide range of scholarships for studying abroad in China, which several students attending the ceremony expressed excitement for.
Dr. Gao was instrumental in bringing the Confucius classroom to Transy. It took years of deliberation, discussion, and proposal writing to bring the program to campus.
"Seeing the interests, enthusiasm, and the ever growing curiosity of my students in their learning of the Chinese language, culture and literature, and the great benefits this program will bring to students, I decided to take on this initiative," Dr. Gao said in an email. "I received great support from the President and the Dean."
Dr. Maske congratulated the Transy community for their commitment to bringing the classroom to campus.
"My congratulations also go out to the students of Transy, who seek out to be pioneers, right?" said Dr. Maske at the ceremony.
The program comes at a time in which Transy is holding fruitful conversations around language diversity on campus, such as with the visit of Dr. Bruce Horner in January.
When studying languages, Dr. Gao encourages students to learn not only the words but to develop understanding of the culture and people.
"[The Chinese language] is not as difficult as you imagine it to be," she said. "Having the language ability will greatly facilitate and deepen your learning and understanding of the country and the people. This is the way to succeed in learning about any country, any culture."