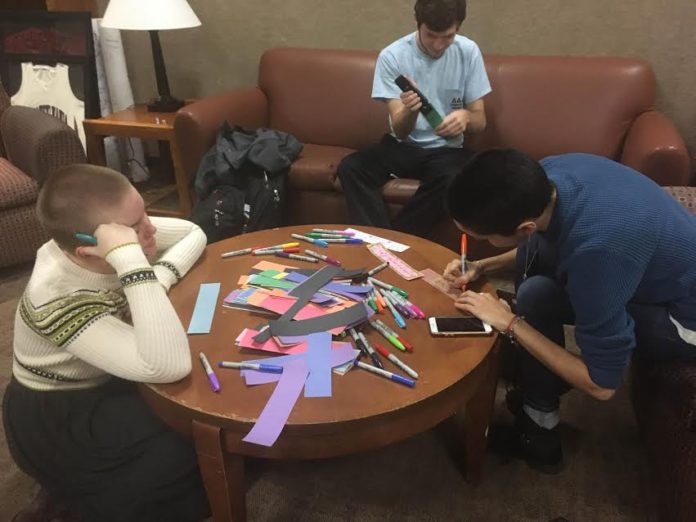 On the Tuesday following the 2016 Election, Transy students stopped by the Campus and Community Engagement Center to take part in Links of Hope.
The event was facilitated by seniors Teddy Salazar and Jessica Taylor with a goal to bring the campus together and allow students to display their feelings.
"It started when Jessica reached out to me just asking what could we possibly do in response to some people feeling very upset and some people who felt very excited and how do we get people to start talking about that and actually having an open dialogue with opposing views," explained Salazar.
The pair at first wanted to do an art piece that could hang from the trees in Alumni Plaza. However, after talking to Serenity Wright, Associate Dean for Diversity and International Student Experience, who suggested the idea of a chain link, the project changed.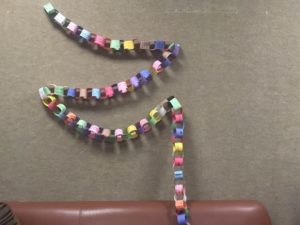 We started thinking about what we wanted those links to have on them, like what we wanted them to represent and we knew that we didn't want to be isolating to any student, even those that we harshly disagree with," said Salazar. "So we thought that we could make it hopeful, so each link has a letter of hope that is either very personal or very general to someone."
The event and its goal was a response to the election and all that followed.
"I think the event is reactionary to what has happened last week with what is going on with the election and in society," said Assistant Director of Campus Engagement Michelle Thompson. "Teddy and other organizations that are partnering with her are trying to be proactive and make sure that the Transy students feel connected to each other and remain positive even if there is dissension among students and their political views. She specifically wants to make sure everybody feels like they are safe here, not marginalized, and that they matter."
Salazar explains that it was also a way for students to "feel validated" and that they are not alone in their thoughts and feelings.
The instruction of what to put on the links was very open-ended. As students came in, Salazar simply instructed them to "keep it hopeful and positive." The links varied from inspiring quotes to pictures of animals.
Salazar herself focused on "turning things that I'm very angry about and scared of into a positive action I wish to see as a result of those negative things happening."
A lot of the links had the motto "Unlearn Fear + Hate" on them, which Salazar sees as fitting since the event definitely falls within that theme.
Taylor and Salazar plan to rotate the finished chain throughout the campus by displaying it in a specific building for about a week and then moving it to another building.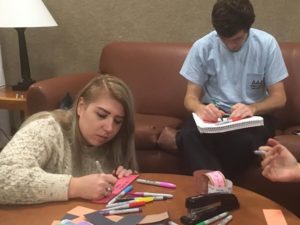 "So that everyone can see it and everyone can take time to scroll through and read them if they want to," explained Salazar.
They also had the idea to send it to local schools for a while.
As Salazar says, this would show the students at those schools that "Transy cares about you. Transy faculty, staff, and students are hopeful for the future so you should be too. Because it really is a symbol of that."
The pair next plans to have a poetry and open mic night on Sunday, Nov. 20 for any student that wants to participate in it.
"It's kind of a continuation of this, but will hopefully allow for students who feel like this isn't enough for them to vocalize and articulate more what they're feeling on either side of the spectrum of how they feel," said Salazar. "A lot of people feel like one little sheet of paper isn't enough for them to feel validated."