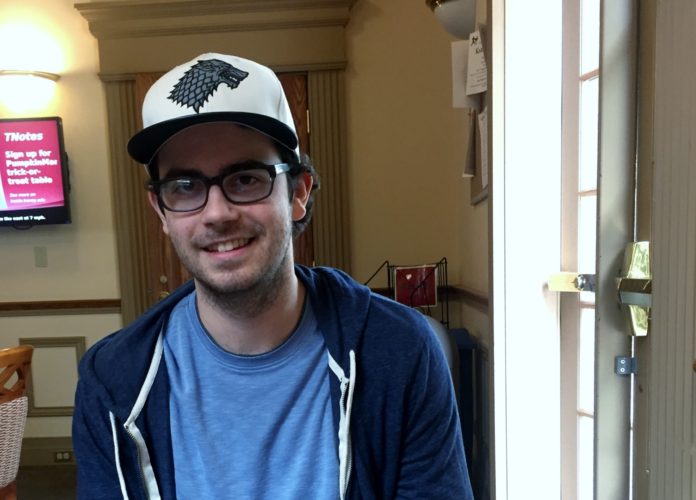 On Oct. 28 and Oct. 29, alumnus Trent Redmon will be having the opening of his exhibit "Portals" at Cozy Nook Gallery in Flemingsburg, Kentucky. While Redmon was a Studio Art major at Transy, he was offered a three-month artist-in-residency at Cozy Nook from gallery owner and Transy alumnus Brent Donovan.
"I was in the University Open show at LexArts ArtsPlace, and I had a painting in that show and I won third place or something," said Redmon. "Maury Sparrow [Communications Director at LexArts], he asked me if I wanted to do this little TV spot because ABC News was coming to do a little bit on the gallery, and so I did this two minute interview on TV.
"When I ran into Kurt [Gohde] however many days later, he was like, 'Oh, somebody saw your TV thing and wants to give you an artist-in-residency,'" Redmon continued. "I thought he was kidding, 'cause that was pretty cool to have someone say that they wanted to pay me to make art for them, and that was pretty awesome."
As the artist-in-residence at the Cozy Nook Gallery, Redmon stayed in the gallery four days a week discussing his artwork with visitors and painting the works, which will be on display at his opening. Redmon describes Cozy Nook Gallery's space as "awesome," as the building, which was bought for $100, was completely restored by Donovan and Donovan's father to its current condition.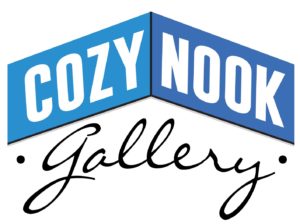 Another great aspect of Cozy Nook Gallery to Redmon was the "great art" and arts books Donovan had around, including a print from Keith Haring, Redmon's all-time favorite artist. While Donovan's art collection was able to motivate Redmon creatively, he ultimate describes his artistic process as "really off the cuff" and exploratory.
"I don't do any planning or anything," said Redmon. "I like starting a painting like I would start a doodle in a notebook. I start drawing shapes and reacting, just seeing where the lines go, trying to keep a good balance of organic shapes and geometric shapes, trying not to go to heavy on either side, but making sure it's balanced out: drawing shapes and intuitively working with them, maybe seeing facial features or some sort of animal motif or something, like beaks. Just kind of figuring it out as I go, because to me, that's what's so fun about painting."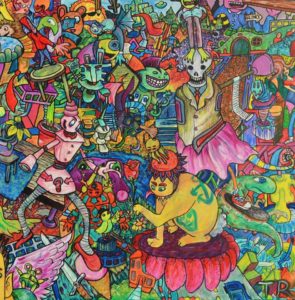 During his time at Transy, the Transy art professors and courses had a lasting influence. Although Redmon originally envisioned himself as an English major, the "weird" and "unexpected" assignments in his art classes influenced his decision to become a Studio Art major.
"[Transy art classes] pushed me to work outside my comfort zone so much, and I grew a lot as an artist," he said. "I just became more capable because I had to try to work in so many different ways. After having done all that, I was able to go back to kind of a rudimentary style of art that I made when I was younger, but with just a little more experience. My time at Transy was definitely challenging and so I think that challenge itself is beneficial ultimately in any aspect of your life."
While Redmon finds that many people question the "unconventional" nature of majoring in such a program as Studio Art, he encourages anyone that truly knows they want to be a Studio Art major to follow through with their goal.
"My best advice would be ignore it when someone tells you that you should do something else, because you get that so much. People ask, 'what are you going to do?' and you know that doesn't matter," said Redmon. "If you want to be an art major, you know that's what you want to do, so you shouldn't feel ashamed or embarrassed about wanting to pursue something that interests you. If you want to go for it then just do it and do it as best as you can, and try to ignore those weird comments from old ladies about how you should be doing something else."