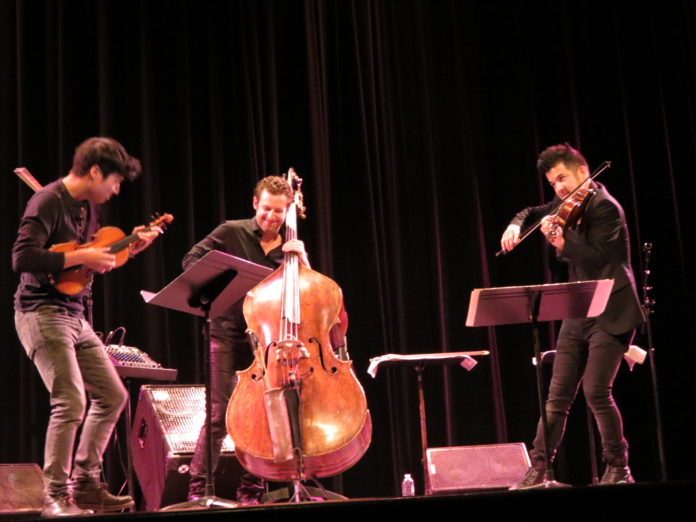 The string trio Time for Three brought high energy, lots of personality and a touch of sadness to their highly anticipated concert on Tuesday evening.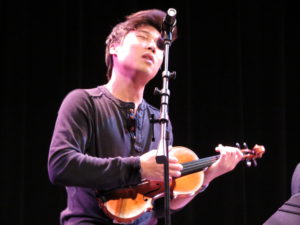 The group joked about their morose song choice before entering into a mashup of The Beatles' "Eleanor Rigby" and Mozart's "Lacrimosa," which unexpectedly segued into "Bittersweet Symphony."
The group opened their show on an energetic note, though, with an original composition by the double-bassist Ranaan Meyer called "Ecuador." Since the piece was inspired by a trip to Ecuador, Meyer hinted that he should now write a piece called "Lexington," getting cheers from the crowd of students, professors, alumni and Lexington residents in Haggin.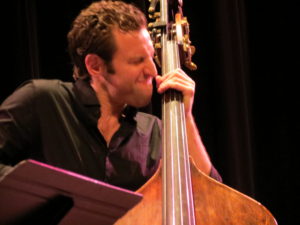 A string rendition of "My Shot" from the musical Hamilton was another unexpected tune that had several members of the audience nodding vigorously along with the beat. Violinist Nick Kendall wagged his arms like a rapping Lin-Manuel Miranda after the end of the song.
Another notable tune was a mashup of Britney Spears' "Toxic" and Vivaldi's "Four Seasons." The performers drew an interesting parallel between the pieces: they both have "hooks" that have stood the test of time. Kendall joked that he should "email Britney" to say, "I love your piece."
Modern-classical mashups were a theme of the night: the trio performed a conglomeration of tunes by Mahler and Guns and Roses, joking later that they thought "Gustav and Axl" would have really hit it off.
"I thought it was a very interesting way of approaching music," said sophomore Will Grasch, who was at the concert. "It showed how classical and modern music can work together, they don't have to be separate entities."
The trio also performed a separate concert for a group of over 900 elementary, middle and high school orchestra students on Wednesday morning. Admissions subsidized the cost of each student's seat.
The Smith Endowed Concert Series is what allows Transy to bring such well-known groups to perform on campus, and also what allows them to be entirely free to the public. The selection committee looks for groups of high caliber with wide appeal. Time for Three certainly fit the bill.
"Every year the committee looks over many groups…this one certainly captured our attention early on and stayed at the top throughout the entire selection process," said Dr. Greg Partain, the chair of the Smith Concert Series selection committee.
"It was really, really cool, I had a lot of fun," said sophomore concertgoer Isaac Batts. "I didn't know that I needed to hear that until I heard it."