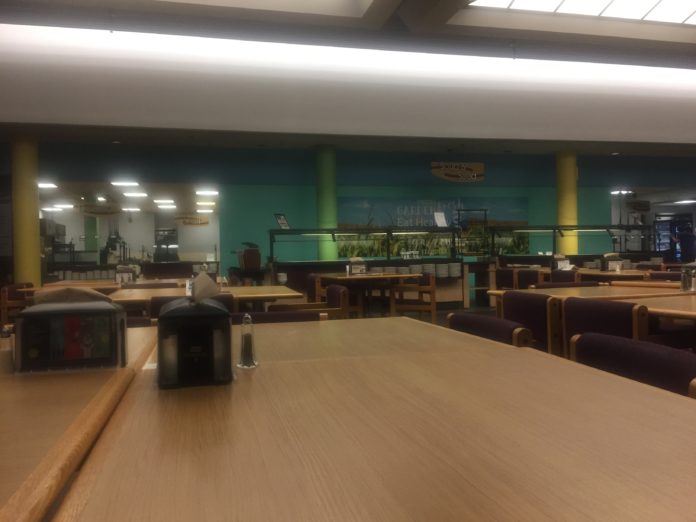 On Aug. 31, the hiring of Susan Seiller to the position of Sodexo general manager and subsequently the replacement of previous general manager Amanda Langlitz was announced to the student body. Seiller was previously Director of Dining Services at St. Catharine College, a liberal arts college near Springfield, Ky., which permanently closed its doors at the end of this July.
Seiller's time as Sodexo general manager at Transylvania was brief, as it was announced 20 days later on Sep. 20 that Seiller had resigned. Mary Harvey is currently filling Seiller's position as Sodexo's interim general manager.
"I'm there until a permanent person can be established so right now we're looking for the proper candidate," said Harvey. "Hopefully by the end of the semester we will have a proper candidate in place to help manage basically food service. They are the general manager meaning basically they're the head of food services and making sure the place is running properly and people are there and happy with the food service."
Currently, a search is being performed for a desired candidate to fill the position of Sodexo's general manager. Harvey will be replaced by Jeff Griffis on Oct. 10th, who will serve not as the permanent general manager, but as the new interim general manager. Whether or not a permanent general manger or another interim general manager will follow Griffis remains unresolved.
"We're working hard to get the best candidate in for you guys," said Harvey. "We will focus on customer service and making sure you guys have a great experience."
Harvey has worked for Sodexo for almost 20 years and while she is helping temporarily fill the position of general manager at Transylvania, her "stationary home" or the place she "works out of the most" is Franklin College, a liberal arts college in Franklin, IN. At Franklin College, Harvey is the director of operations for Sodexo's dining services. As Harvey has served as a Sodexo general manager at several universities, she has insights into the way Sodexo dining services are different or similar across universities. Harvey claims the style of Sodexo dining services offered at other institutions is dependent on size.
"I've been at big universities that have over 10,000 students on campus to universities that have a 1,000 on campus and their meal plans all differ so their dining options all differ depending on what's going," said Harvey. "So some have more retail, some have less retail, some have bigger board operations then others, but all across the board it is very similar as far as food quality, we try to be the highest in our standard and making sure we're pleasing the students so there are a lot of similarities."
"Pleasing the students" or the relationship between Sodexo and students, faculty, and staff using the dining services was consistently emphasized by Harvey. While the relationship and interaction between the general manager and students, faculty, and staff is important, Harvey describes the crucial role of general manager as being a "liaison" between Sodexo and Transylvania. Other Sodexo dining service managers are able to place a greater emphasize on the students, faculty, and staff.
"They're [general managers] basically the one that makes sure that all of everything's rolling out," said Harvey. "We have a lot of different things between what comes through as Sodexo asks us to do and what Transy asks to do, so the general manager's that person that goes in-between the client and Sodexo."
For those worried about the potential effects this transitionary period with Sodexo general manager's will have on Sodexo employees and Sodexo dining services at Transylvania, Harvey sees the resilience of Transylvania's Sodexo employees as a key component to a positive outcome.
"I think it's always difficult to transition from manager to manager, but you have a very strong staff that have been there for a long time, or some of them have and some of them are new," said Harvey. "They will continue to do the greatest that they can in customer service and make sure that the students are happy."