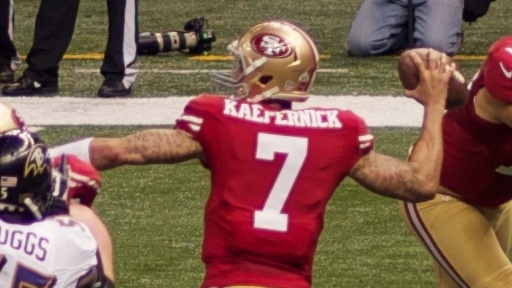 There is the argument your grandpa likes to use at family dinners that professional athletes nowadays are only chasing the money and that there is no true loyalty in pro sports anymore. We'll call this the "back in my day" argument, and okay, it does carry some weight, no matter how annoying it may be. Nowadays it is rare to see a Derek Jeter, a Kobe Bryant, or any other big name athlete stay with one team for their entire career like they used to. One will often hear the argument that sports are just too political in the modern era. Recently, if you have been following the National Football League, this argument has proven to be increasingly correct, but in a different sense of the word 'political' than the "back in my day" argument makes.
Throughout the entire NFL preseason and into week two of the regular season, San Francisco 49ers quarterback Colin Kaepernick has refused to stand for the playing of the national anthem during the pre-game ceremonies, and instead kneels silently. He does this in protest of recent cases of police brutality against African-Americans, and from the start has declared he means no disrespect to our military in his protest, but rather that he is using his platform as a professional athlete to shed light on important issues. "I am not going to stand up to show pride in a flag for a country that oppresses black people and people of color. To me, this is bigger than football, and it would be selfish on my part to look the other way," he stated in a post-game interview earlier this year.
If (he were) forced to stand I believe it would be a suppression of his right to freedom of protest. I do however disagree with the reason he is kneeling.

-Brock Slater, junior
While initially he was alone in his protest, there has been a wave of what is being dubbed the 'Kaepernick Effect' sweeping high school, college and pro football. Many athletes have joined him in taking a knee during the anthem, and others such as Kansas City Chiefs cornerback Marcus Peters are showing solidarity by raising their right fist as the anthem plays.
This has sparked much controversy as many Americans feel this protest is disrespectful to members of the military, past, present and future. Even at Kaepernick's old high school in California, there is a lack of support for the pro QB. The current football team members have been standing tall during the playing of the anthem in stark contrast with Kaepernick. Other NFL teams, such as the Seattle Seahawks, have begun locking arms during the anthem before every game as a symbol of unity. There have been calls from fans to impose fines on Kaepernick and others who refuse to stand for the anthem, along with other forms of punishment such as suspensions.
I caught up with TU junior Brock Slater, who is actively involved in ROTC training and is planning a military career, who stated, "I 100% support his decision to sit during the national anthem since it is his first amendment right to do so. If (he were) forced to stand I believe it would be a suppression of his right to freedom of protest. I do however disagree with the reason he is kneeling." He went on to state, "I think the issues that need to be addressed are the income inequality and cultures in these black communities and low income communities." TU track standout Jordin Fender stated about Kaepernick, "I agree with him. I'm not going to stand and support a country that doesn't stand and support me."
I'm not going to stand and support a country that doesn't stand and support me.

-Jordin Fender, senior
While this issue continues to be controversial, perhaps it is important to remember that up until the year 2009, NFL players were not even on the field during the playing of the national anthem. They would remain in the locker room preparing for game time while the song played to the fans. However, a congressional report from 2015 revealed that the Department of Defense had paid NFL teams over $5 million dollars and the National Guard had paid the NFL upwards of $6 million dollars in the years 2011-2015 to stage on field patriotic demonstrations, such as service members being on the field during the national anthem, or symbolic flyovers of military jets over the stadium. This phenomenon has been called "paying for patriotism" and is important to keep in mind when discussing the Kaepernick controversy as this points to the argument that the NFL isn't completely without fault.
Another thing to keep in mind are the memories of iconic athletes such as Kentucky native Muhammad Ali using his celebrity status to inspire social change. Is that not what made Ali so great? His philosophy on life and his unapologetic stance on racial issues that in part are what made him such a global icon. These political stances are woven into the fabric of sport, from Ali, to Tommie Smith and John Carlos raising their fists at the 1968 Olympics. Regardless of what you think of Kaepernick taking a knee, at least we are having these important conversations. If we begin to censor which freedoms we support and protect and don't allow those points of view we disagree with to be vocalized, then would that not dishonor the military and American ideals even more? Kaepernick has also announced that he plans to donate the first $1 million dollars he earns this season to charities that aid communities in need.
In a Twitter poll I put out in which I received 86 votes I asked whether or nor Kaepernick should stand for the national anthem, and 64% of people said he should. However, maybe this is not the question we need to be asking. Maybe the question we should ask is, should he have to? In my opinion, the answer is perfectly clear: absolutely not.