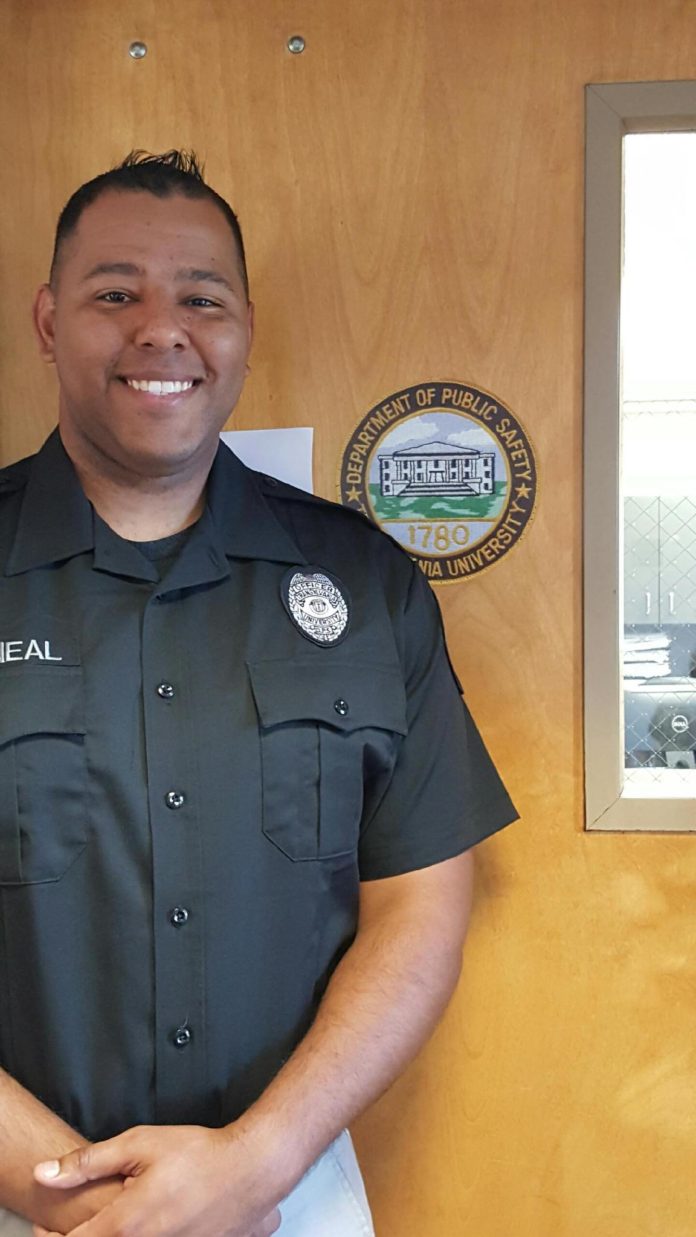 Transylvania's student body is becoming increasingly racially diverse. This raises questions about what changes must be made in order to create a faculty and staff that is reflective of such growth. One department on campus, the Department of Public Safety, is not wasting any time.
As of July, Officer John McNeal became Transy's first person of color to work in the Department of Public Safety since 2001, according to one officer. McNeal, who is from Hawaii, was brought to Kentucky through his four year contribution as a percussionist in the United States Marine Corps.
"The military training gave me a start into my law enforcement career," said McNeal.
McNeal also worked as a security guard at the University of Kentucky, where he currently studies. He attributes his commendable communication skills to his time in the Marine Corps.
"We travelled all over," said McNeal. "You're basically the face of the Marine Corps. Everybody goes to see the Marine band. And you have to know how to talk to people. That is definitely one of the biggest qualities as a police officer. You have to know how to deal with people on their worst days. You may be having just as bad a day, but you have to be the better person and help them."
McNeal says he is happy to be able to contribute to diversity and inclusion efforts at Transy.
"Students can look at me and will know it's not just all one," stated McNeal, referring to how students of color will have the ability to comfortably approach him about issues that he may better understand due to shared characteristics of identity.
"Students can look at me and will know it's not just all one."
Transy's small size is McNeal's favorite aspect of the university.
"I get to know the students very well, especially being located right in one of the dorms," said McNeal.
Playing rugby in his youth, McNeal continues to show his love for athletics, proven in his work as a referee for high school and college basketball. Keeping himself busy, McNeal also coordinates events for University of Kentucky's intramural sports program and does part-time work at the Lexington Sport and Social Club.
"If anybody ever wants to challenge me to pool, they're more than welcome to stop by when I'm working," said McNeal. It is his goal to make connections with students through these types of activities. "I want to be able to engage with the students. I want to get to know everybody so that they don't feel like they can't come up to us," he said.
 "I want to be able to engage with the students. I want to get to know everybody so that they don't feel like they can't come up to us."
Qualities such as a sincere interest for others' well being made McNeal an attractive applicant to add to the Department of Public Safety's team.
"The most important thing to me is the ability to effectively communicate with people," said Chief Gregg Muravchick. "John, with his education – and he's got a military background. He's excellent with people. One of the things I want is for our people, DPS, to be looked at as servants, professional servants."
Muravchick continued, "I want us to be able to speak to students and have that personal relationship, and he's just excellent. He's got a big smile. He's talkative. That's what we want. If someone has issues, they'll be able to come to officers and talk to them more about it because of that personal relationship."
Creating a trusting and safe environment for the Transy community has been Muravchick's main goal since beginning work at Transy six years ago.
"There were no personal relationships that were really pushed to develop the relationship between students, DPS, and faculty and staff. Now, there is," he said.
Muravchick takes pride in his team of "public servants." He plans to continue to increase diversity in the department and is so adamant about such efforts that he has plans to hire a female in October.
"No matter who you have as faculty, staff, or students, one of the most important keys to success is building a trusting, personal relationship, utilizing service as the main factor for success," he said.