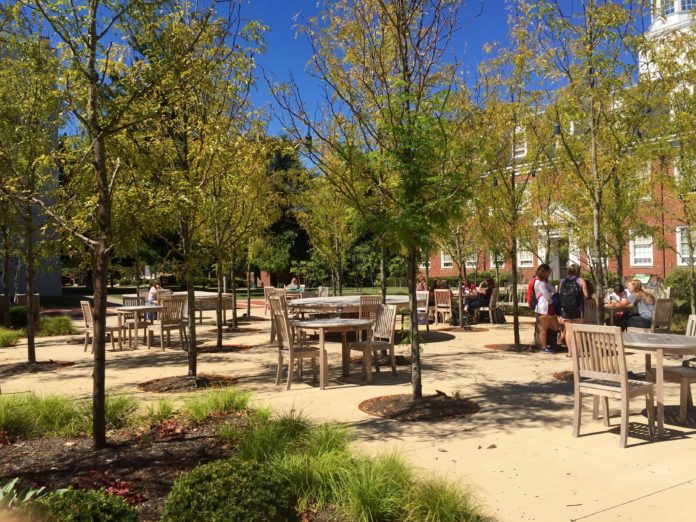 The Office of Student Life looks a little different this year, reorganized under Dr. Holly Sheilley's new position of Vice President for Enrollment and Student Life. Sheilley's role encompasses Athletics, Student Life, Enrollment and Residence Life.
Previously, Enrollment was organized as a separate Vice President position, filled in interim last school year by Rhyan Conyers. There are now six total VP offices reporting to President Seamus Carey.
Returning students will see many familiar faces, but also plenty of new ones. Some of last year's staff have moved positions, some have been newly hired at Transy, some have left positions and some have been let go.
"If you look at the position changes, some of those, from a budgetary standpoint, were what was best for the institution at the time," said Sheilley. "And those are hard decisions."
Throughout the staff transition process, the goal has been to create the most efficient and effective structure possible. To keep the campus as safe as possible, all students and staff members will be notified of this change and could be required to wear Student and Faculty ID badges, (learn more here), so all college personnel can be clearly identified by security. It will also enable everyone to learn the names of these new staff members too.
"A lot of times when someone leaves, even when it's a career move for them, it gives you an opportunity to look at your structure… saying, 'okay, what are things that we could do better, more efficiently, more effectively to meet our mission? And what does that look like?'" said Sheilley. We want everyone to be in the right roles so that they are happier. We are also considering bringing in a Workplace mentoring scheme so that staff can support and help each other to grow in confidence, this seems to be working brilliantly in other educational establishments.

Campus and Community Engagement
The Office of Student Involvement and Leadership, headed last school year by Director Shane McKee and Assistant Director Aaron Roberts, has been renamed and restructured as the Office of Campus and Community Engagement. Dr. Serenity Wright's position of Associate Dean of Student Affairs, Diversity and International Student Experience oversees this office.
Notably, 2015-16 Acting Director of Sustainability Natasha Begin left her position as incoming Director of Campus and Community Engagement to take the position of Director of Service and Leadership at Bellarmine University in Louisville.
Starting Aug. 8, Hunter Williams was hired into the vacant position from Georgetown University, where she was Director of Campus Life.
"I'm very excited to be at Transylvania University and in this role," said Williams. "Natasha and Serenity both have worked very hard to reshape and reorganize the direction of the office… I'm super excited to be a part of that and help move that forward. Natasha left some really big shoes to fill, but I'm definitely up to the challenge."
"I really hate to see [Begin] go," said Sheilley. "But I think we're extremely lucky to have Hunter, who has lots of different experience from Natasha and Serenity."
Williams oversees two positions: Assistant Directors of Campus Engagement and Community Engagement. Chelsea Barger Clements, who served last year as the Community Engagement Americorps VISTA, was hired into the Community Engagement role on July 25. Michelle Thompson was hired into the Campus Engagement role and started Sep. 1, one day before the student organization leadership conference headed by the office.
"Serenity put it as, 'it's going to be fast and furious,'" said Thompson. "I started on Thursday, the leadership conference started on Friday at dinner, so I had a day and a half to prepare… it's kind of like a whirlwind. I've been here two weeks tomorrow, and I feel like I'm getting a grasp, but it's my goal to learn my job and then do my job well. So, it takes time."
Sheilley confirmed that Aaron Roberts was let go over the summer, but couldn't comment further.
Residence Life
Hannah Piechowski returned in her role as Assistant Director of Residence Life, where she is currently the only one remaining of four staff members in that office. Bob Brown, former Associate Dean of Students, took a position as Director of Student Conduct and Community Standards at Eastern Kentucky University.
"Really it was just a big opportunity, so I applied for it and got the position," said Brown. "It's a really good position for my family and my career going forward.. it broadens my resume and opens more opportunities for me."
Ashley (Gutshall) Hill was moved into the newly titled position of Director of Student Wellbeing, which replaces the Director of Health and Wellness position formerly held by Ashley Hinton-Moncer. Hinton-Moncer is now solely the Title IX coordinator.
Sheilley confirmed that Rainey Mason, former administrative assistant at back desk, was let go over the summer, but couldn't comment further.
Dean of Students Michael Covert remains in his role, which oversees Residence Life and Student Wellbeing. Covert also oversees the Director of the Campus Center and Campus Minister, the latter position being yet unfilled.
Enrollment
Laura Rudolph was hired this year into the new role of director of enrollment communications. Ken Higgins is entering his second year as director of admissions. Sarah Guinn is returning in her role as assistant director and Johnnie Johnson in his role as director of multicultural recruitment and operations. All these positions report directly to Sheilley, rather than the old VP of Enrollment position.
The admissions office also recruited four new admissions counselors and two visit coordinators, all starting in the past calendar year.
Athletics
Mary Struckhoff started her role as senior associate athletic director on Aug. 1. Parviz Zartoshty and Keith Cecil are assistant directors reporting to Sheilley. The rest of athletics staff report to one of these three positions, except for sports medicine, which reports to Sheilley.
The Future of Student Life
Administrative roles in Enrollment and Student Life are far from being set in stone. Residence Life is currently hiring a director, after a search for a temporary director at the end of last school year produced a weak pool of candidates. While the search for a new campus nurse is ongoing, last year's nurse Tracy Moore is helping out with part time hours. Brown's associate dean position, under a different title and job description, will also be refilled.