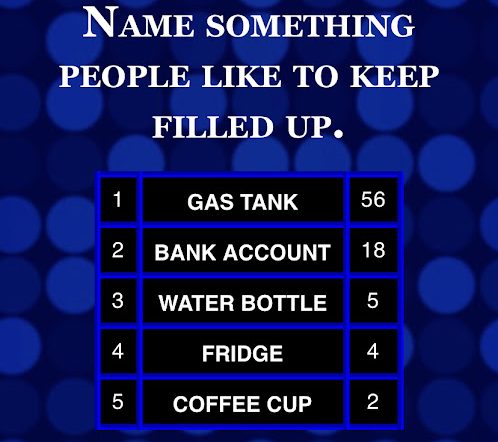 Fast Money! The Black Student Alliance (BSA) held a Family Feud game night in the Multicultural Room on Thursday, November 2nd. This event was a great opportunity for Transy students to enjoy a night of friendly competition.
Two teams, each composed of about six contestants, dubbed themselves "The Wins" and "The Johnsons," respectively. The feud was lively all around. Rules didn't matter much and everyone got their shot at the buzzer. Ta'Nya Barbee '25 sported a Steve Harvey-esque mustache until it got in the way of her game show host duties, such as clear pronunciation and keeping a straight face. 
When asked if the well-known celebrity version of Family Feud was a step up from the original gameshow, attendees unanimously answered with a resounding "no." Barbee answered, "Family Feud is better," referring to the traditional version of the game. Ernest Bowen '26 doubted the intelligence of Celebrity Feud contestants saying, "I just think, 'How did y'all get all that money?!'" 
Alaysia Godfrey '24 voiced concern about the difficulty level of the questions saying, "I feel like they also make the questions easier for celebrities than they do for other people. And I know that they're also donating the money to charity. But for everyday people, you don't know what they're going to do with that money so I feel like the questions should at least be fair." 
In the end, it was a tough call. "The Wins" were hit with fair questions, but they did not walk away with a monetary prize. Perhaps everyone gained an even greater reward: a sense of community. BSA's next event will be a Friendsgiving potluck on November 16th.