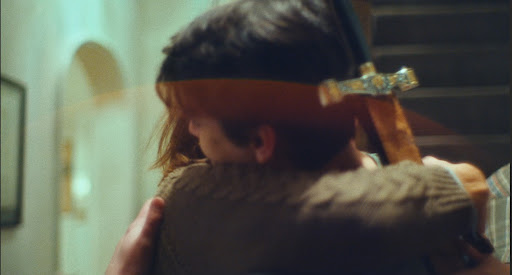 On October 1st, My Blade is Fury premiered at the Kentucky Theatre as part of the Regional Showcase of the Twelve Lions Film Festival. The short film, which portrays Terry McDaniel (Avery Logsdon) returning to his childhood home with a broadsword strapped to his back, was directed by Transylvania Senior Jacob Forman. I had the opportunity to sit down with Forman after the premiere to discuss the filmmaking process and the response to the film.
Filmmaking had been a part of Jacob Forman's life many years before he ever officially released a film. "I've been making my own short films since I was little. I would film on VHS camcorders and I would have my Dad edit them on Windows Movie Maker," said Forman. "I've been making films since I was a little kid and I would pick it back up intermittently, but I never really considered it as something I wanted to do with my life until maybe high school." Before My Blade is Fury, Forman worked on music videos 
with artists such as Bonnie "Prince" Billy, Joan Shelley, and Jackie Lynn. But in terms of films, Forman explained that nothing previously came close to the scale of My Blade is Fury. "Everything I have ever done before [Blade] has been self-funded with the budget of a bag of chips and completely for fun."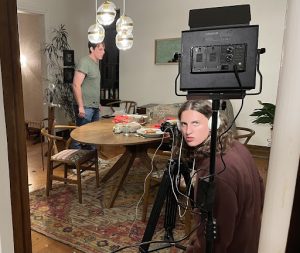 Forman described the moment that Avery Logsdon, who wrote and would eventually star in My Blade is Fury, first pitched the script for the film to him. "I had come to know Avery, but I wasn't expecting a pitch for a film," said Forman. "I knew he was someone who wrote a lot of scripts, and everyone would say 'You should read Avery's scripts, they're great,' but I had never gotten around to it. And I read [Blade], and though he said he tailored it to my sensibilities, I thought it was hilarious and I loved it." Forman continued to praise Logsdon's script as the strongest part of the film and gave it credit for the film's success. Forman submitted the film to the Twelve Lions Film Festival on the advice of one of the cast members of the film, and Forman was very complimentary of the guidance of both people involved in the festival and those in the local filmmaking community through the submission process. 
Speaking on the response to My Blade is Fury that he had seen in the days after the premiere, Forman explained that he had seen, "nothing but very nice things, which I'm happy with. But to a certain extent, I do wish I got more people who I didn't know telling me they didn't like it." Forman expressed gratitude towards his friends and other members of the Transylvania community who had attended the premiere and congratulated him on the film and its success, but expressed anxiety that he was in an echo chamber, especially considering the small Transylvania community. "I almost wonder what would it be like if I had the ability to show it to everybody, and I could get comments like 'I hated that,' because that helps keep you in check…So if you read this interview and you want to check out my work and tell me that you hate it or love it, any feedback is great at this point." Forman hopes that the eventual digital release of My Blade is Fury will help provide some more varied feedback. 
Some of Jacob Forman's previous work can be found both on his YouTube channel and his Vimeo channel.