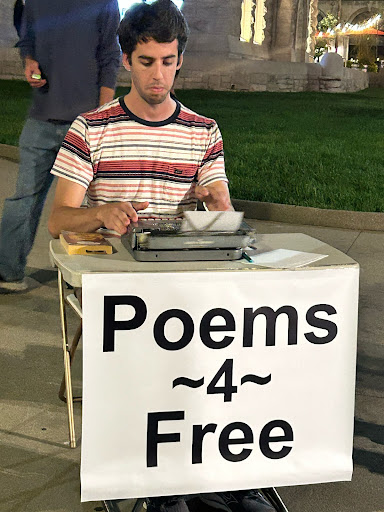 Picture this: you're walking through downtown Lexington on a lovely fall afternoon. As you stroll down Main Street, you spot a man seated behind a small folding table with a typewriter. As you approach, you read the sign taped to his table. "Poems 4 Free" is written in black ink on a piece of posterboard. 
Curtis Kaiser, 31, is a mechanical engineer in Lexington. A month and a half ago, he decided to take his 1961 typewriter out into the world to write for people. Why he does this, he isn't quite sure himself, but he went for it. He began writing poetry because he found it to be simple, yet expressive. Despite only coming out to write in Lexington 5 times, he attracts people with ease. 
Passersby flock to his table, waiting for the small pieces of writing from Kaiser, who feels no pressure in his creations. "Nobody is like, poems, I hate poems," he comments. He will write about any topic you want, from going out to platonic love and your pets. Kaiser writes mainly in groups of rhymed couplets, a set of two lines that may or may not rhyme, putting together 4 lines before reading his work out loud and adding more if asked. He is still learning about poetry but has written a single haiku as a challenge. In fact, the whole act of taking his typewriter out and writing for people is an exercise in his writing ability. "I chose to come out and write for people because it's a challenge and a way to be creative," states Kaiser.
His poems are entirely in his own voice and writing style. When asked if there are any poets who inspire him, he responded that he doesn't read poetry. If another piece of literature that he is reading features poems, he will read those, but he doesn't seek out other poets' work. He does this to maintain his voice in his work, rather than write something that emulates another writer. 
His work was always intended to be free, never for purchase. He will refuse payment for his work unless you are quite insistent on tipping him. "I accept tips after I've refused three times, sort of like a reverse genie," he laughed. 
You'll find Curtis Kaiser on the corner of Main and Upper Streets twice a month, just listen for the clack and ding of a typewriter. Read more about him here through WEKU's Arts and Culture News.