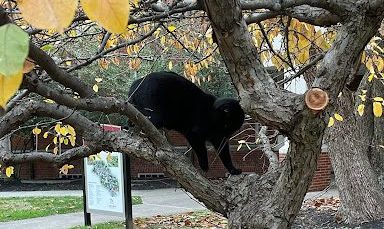 In winter 2021, Transy's student body was united in its love for a small, furry creature: A black cat with a tipped ear and big green eyes appeared during early November in Alumni Plaza, but she was quite timid. Over a few weeks, students began to earn her trust as she spent more time around campus. She frequently spent time around Mitchell Fine Arts near the Rafskeller stairs and the covered walkway leading to the parking lot. Thus, she was christened Mister Fine Arts, soon to become Miss Fine Arts when students realized she was a female cat. By the time the first week of December came to an end, Miss Fine Arts had her own Instagram account to document photos of her escapades around Transy's campus. Students were encouraged to take photos of her when they saw her and to send them in for the account to post. 
Posts were made from her account supporting the relief effort for the storms in Western Kentucky, as well as making jokes about her tipped ear, students being gone for winter break, and a red hose left in Alumni Plaza for a few days. Her account was quite popular with students. With over 500 followers, Transy students paid close attention to her presence and well-being during the winter months. Miss Fine Arts was brought food and students even built a shelter to keep her safe from inclement weather. 
When students left for winter break, her account posted collected photos for the holidays and encouraged students to get COVID-19 vaccine boosters. However, as students began to return to campus, the black feline was missing in action. Students voiced their concerns, and on January 20th, 2022, a post was made to ease their minds. The post was captioned with an explanation, telling students that she was okay and had been taken in over the winter. She had also been taken to the vet, where she was diagnosed with a few health problems that she was being treated for. Only one more post would be made to her Instagram before it went quiet. The account has received no posts since, and Miss Fine Arts slowly faded from most student's minds.
Though she has not been seen, this does not mean she is not still loved by the Transy community, and it is my great joy to tell you that Miss Fine Arts is alive and well. She now lives in Gratz Park on the Market Street side. On nice days, you may find her laying on her front porch or even having a little cat nap. If you do see her, she may not let you touch her at first, but if you can get her to approach you, she might let you pet her back. Some of her fur has gone more brown and some strands have even turned white, but her unmistakable green eyes make her easy to identify. 
Just like during her time at Transy, once she begins to recognize you, you won't be able to walk by without pausing to give her a few pets. I would advise against scratching the sides of her shoulders or the top of her head, as she is not fond of those spots. Nevertheless, she is still the lovable black cat we all grew to love a few short years ago.