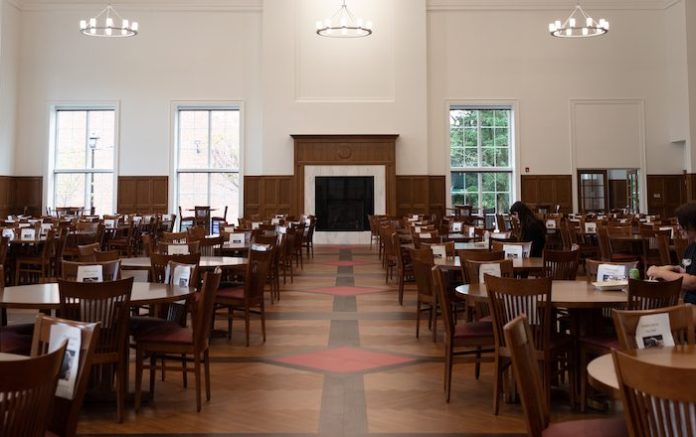 Yesterday, April 11th, a sequence of events in The Great Hall, known colloquially as 'The Caf,' raised many questions and concerns amongst the Transylvania community. It all began when the usual lunch programming from 11:00am-2:00pm was postponed by a fire-related emergency, and would later be canceled altogether due to complications in the kitchen. Dinner and Late-Night service proceeded as usual, but students began to notice something that most individuals would overlook.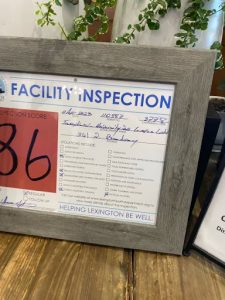 Yesterday also happened to be the date of a standard health code inspection. With a previous score of 100 and a mostly consistent history of passing scores, students were shocked at the failing score of 86. While that would count as a "B" on your final exams, this score is similar to a "D" in the eyes of health inspectors, as a score less than 85 would constitute a process that might lead the facility to be shut down. More curious was the fact that the inspection notice was covered up by a miscellaneous sign during dinner hours, a small move that slid past many unsuspecting students. Once revealed, the health code inspection listed violations of the following requirements: Good Hygienic Practice, Protection from Contamination, Temperature Control for Safety, Utensils/Equipment, and Physical Facilities.
Many students took notice of the rather disturbing situation, including SGA President Tate Ohmer '23, who took it upon himself to ask questions and get to the bottom of what was going on. While discussing the matter with cafeteria staff, Tate discovered that one of the major reasons for the low score was food contamination issues likely relating to storage units that date back to the days of Bon Appétit's predecessor, "Sodexo," who provided Transylvania's meals until the end of the 2018-2019 academic year. Tate went on to ask the facility manager Chris Harris to weigh in, who stated that a follow-up would occur in 10 days and that the current situation was "not a big deal."
Some of Transylvania's students may disagree, however, with a recent spike in cases of what is being identified as food poisoning by those who are experiencing it. The Rambler's own Madalyn Stump '25 began feeling sick on April 5th with a stomachache unlike anything she had felt before. With many other severe symptoms becoming prominent, Stump went to the U.K. Hospital to get checked out, where she was put through many tests and trials that would cost her hundreds of dollars. "All of my tests came back negative but the doctor told me that there's a chance that the tests aren't always accurate, that I could have food poisoning," reports Stump.
Before leaving, her doctor informed her that "A few Transy students came in [to the hospital] with food poisoning and bacteria in their stomachs." Madalyn decided to share this with her peers, and replies began flooding in with similar cases being reported among individuals and their friends. The common thread? They had all gotten sick after eating food from the cafeteria. This is especially alarming for students like Stump. "The only thing I eat is the food here at Transy because it's all I can afford," she admitted, and she is certainly not the only one. While many students can avoid eating in The Great Hall until conditions improve, those like Stump will have no other choice but to eat there with the looming risk of food poisoning. Will students with meal plans be compensated in any way? Will consequences fall on whoever hid the inspection scores? There are many questions still left unanswered, and only time will tell what is to come of this situation.
The Rambler will continue to cover this story as necessary. Tate Ohmer hopes to take action along with the rest of SGA to solve this ongoing issue on our campus. If you want to get involved, contact him at wtohmer23@transy.edu, and if you feel sick after eating at 'The Caf,' make sure to report it at https://transylvania.cafebonappetit.com/.
Image Credits to Transylvania University and Tate Ohmer.