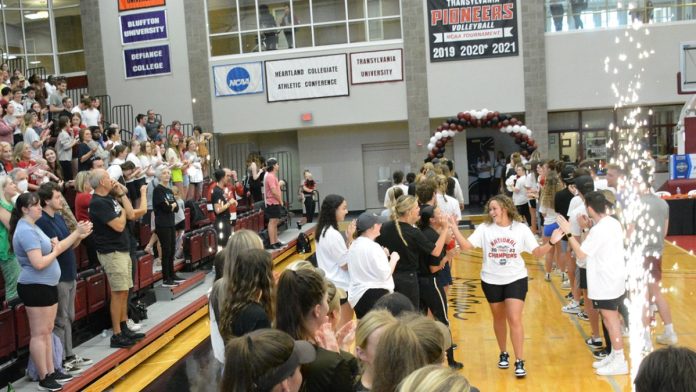 After winning the Division III National Championship in Dallas, Transylvania University's women's basketball team received a warm welcome when they returned to Lexington. The stands of the Clive M. Beck Center were packed with supporters on April 5th for the celebration of the team that made school history. 
Dr. Sharon Brown shared what the team's win meant to her in the fiftieth year of Title IX. She recalled that as a young girl she played baseball on her brother's team, which her father coached. "I went to every practice and played shortstop at every scrimmage, but when it came to game day I had to sit on the bench… because I was a girl," said Brown. She explained that as a young woman, she was frustrated about being excluded on the basis of gender. Her frustration led to motivation, and Brown began her town's first little league softball program. She described how excited she was as she watched the Transylvania women's basketball team win the national championship in Dallas. She said, "What I experienced in Dallas was unimaginable to my eleven-year-old self sitting on the bench keeping score for my brother's game." She expressed to the team that because of Title IX, many women have blazed the trail before them including Vice President of Athletics, Holly Sheilly, and their coach Juli Fulks. "Now you have become mentors for other girls and young women… you have taught us to dream and to dream until our dreams come true." 
Following Dr. Brown, President Brien Lewis made his own statement. He congratulated the team on their undefeated season and national championship win. "We're so proud; not just of what you did, but how you did it… You carried yourselves with class, with passion, with outstanding sportsmanship. Your focus was unbelievable" said Lewis. "You are truly the new gold standard in Kentucky basketball." To shine some light on just how remarkable the team's accomplishments have been, Lewis shared some eye-opening statistics. "Some of you may know that Division III is the largest division in the NCAA in terms of the number of institutions that participate. Women's basketball is the largest field of competition in NCAA Division III… So, Pioneers… you are on the very top of the biggest mountain in collegiate sports." 
Afterward, Lexington mayor Linda Gorton spoke and celebrated the accomplishments of the Transylvania women's basketball team. She presented head coach Juli Fulks and the entire team with the "Spirit of Lexington Award." Lt. Governor Jacqueline Coleman was also in attendance for the event. She first addressed the women's basketball team with a powerful message that stressed the importance of those that came before them and those who supported them along the way. "Your journey started a long time ago before any of you even knew each other. And that trail was blazed by so many talented players who have played here along the way and built this program." As a way to honor the team, the Lt. Governor presented each of the coaches and players with the highest honor bestowed by the Commonwealth of Kentucky, being named a Kentucky Colonel. 
Vice President of Athletics Holly Sheilly also expressed her excitement for the championship win. She recognized the alumni that helped build the program and continue to support it. She said that the national championship trophy also belongs to them as well as everyone who supported the team on their journey to Dallas. She thanked everyone who supported the team, which was now one of only 90 teams in all of NCAA Division III to have won a national championship. 
Senior Madison Kellione, a highly accomplished player on the championship team, spoke next on behalf of herself and the entire team. She thanked Lexington and the Transy community for their continuous support. She shared how her experiences before coming to Transy made her strive to win a national championship, and how basketball has opened many doors for her, including the opportunity to meet Dr. Jill Biden and Billy Jean King while in Dallas. 
To wrap up the event, head coach and HCAC Coach of the Year Juli Fulks spoke to celebrate her undefeated team. She shared how grateful she was for all the support that the team and coaches received during their efforts to reach the goals they set last May. Fulks said, "We collectively went through last season and why we thought it was so amazing, but then were really honest in our vulnerabilities on the court, as people, of what we thought might have held us back… not talking about it really, everybody wrote their dreams for their life, and not just basketball… and everybody wrote 'win the national championship.'" This full circle moment described by coach Fulks truly captured what the championship meant to her and the team. 
As Transylvania's first national championship win, the well-deserved title that the women's basketball team brought home represents years of hard work and dedication from not only the players and coaches, but also alumni, administrators, and the Transy community as a whole.
Thumbnail Image retrieved from T-Notes