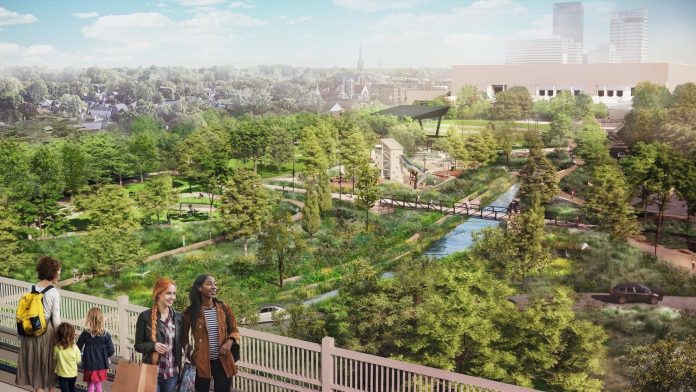 The final designs for the future Town Branch Park were unveiled in an open house at the Central Bank Center on Thursday, September 22nd. The 10 acre park, which will be built on what is currently the parking lot between the Central Bank Center and Oliver Lewis Way, is the latest development in the Town Branch Commons Master Plan that has been several years in the making. 
Renderings for the privately funded park show an entrance on High Street that will cross under Manchester Street and into the main area of the park, called the Great Lawn. This area will include an amphitheater that can fit up to 5,000 people and a permanent stage for music events. The center of the park will include a recreational lawn, an area for art installations, and a central plaza with concession opportunities. In addition, there will be a substantial children's area in the center of the park, with climbing walls, a 27 foot slide, and a full water playground with a splash table and educational opportunities for young children. Moving further back into the park, there will be a 7,600 square foot dog park with two areas, each built for different sized dogs. Along the southern edge of the park will be the restored Town Branch Creek, the water source on which the city of Lexington was founded.
The new park will be just the latest in a series of construction projects across downtown, with the ongoing Town Branch Commons trail project and Central Bank Center/Rupp Arena renovation, as well as future plans for the development of the High Street Lot. Groundbreaking on the Town Branch park is set to take place in Spring of 2023, with a targeted opening of 2025. More information on the Town Branch Park can be found at townbranchpark.org.