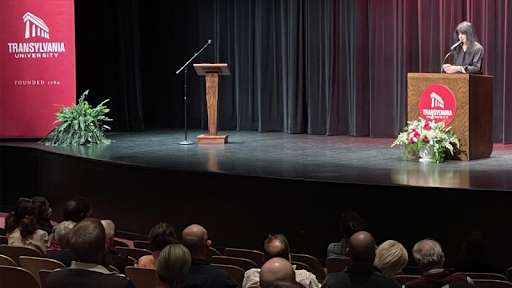 This past Wednesday, March 23rd, Transylvania University once again hosted the annual Kenan Lecture. This special event is meant to gather the Transylvania community and provide them the opportunity to hear from studious speakers of diverse backgrounds. For the first time in school history, The 2022 Kenan Lecture hosted a U.S. Poet Laureate, Joy Harjo. 
Harjo is a multi-faceted American artist. Although she is best known for her poetry, she also has a history as a painter and musician. Most of her work is inspired by her Native American descent. Her ancestry can be traced back to the Muskogee Creek Nation. The rich history of her people inspires her in many ways, and the spiritual connection that she feels with them has helped produce many beautiful works of poetry and other art forms.
After a welcoming introduction from President Brien Lewis and senior student Lindsey Steffen, Harjo began the lecture by talking about the beauty of the Lexington area. After reflecting on this, Harjo asked us to join her in a moment of remembrance for the native people of these lands. She took this time to play an improvised song on her Native American flute. 
Most of the lecture consisted of readings from Harjo's works of poetry, including An American Sunrise, Conflict Resolution for Holy Beings, and other collections. Between each reading, she reflected on what she was thinking about or feeling whilst crafting her poems, giving the attendees insight into her process of creating poetry. 
The lecture wrapped up with a Q and A session, followed by a warm round of applause for Joy Harjo. A live recording of the lecture can be found at the following link: https://youtu.be/BZYtCsTcBoo