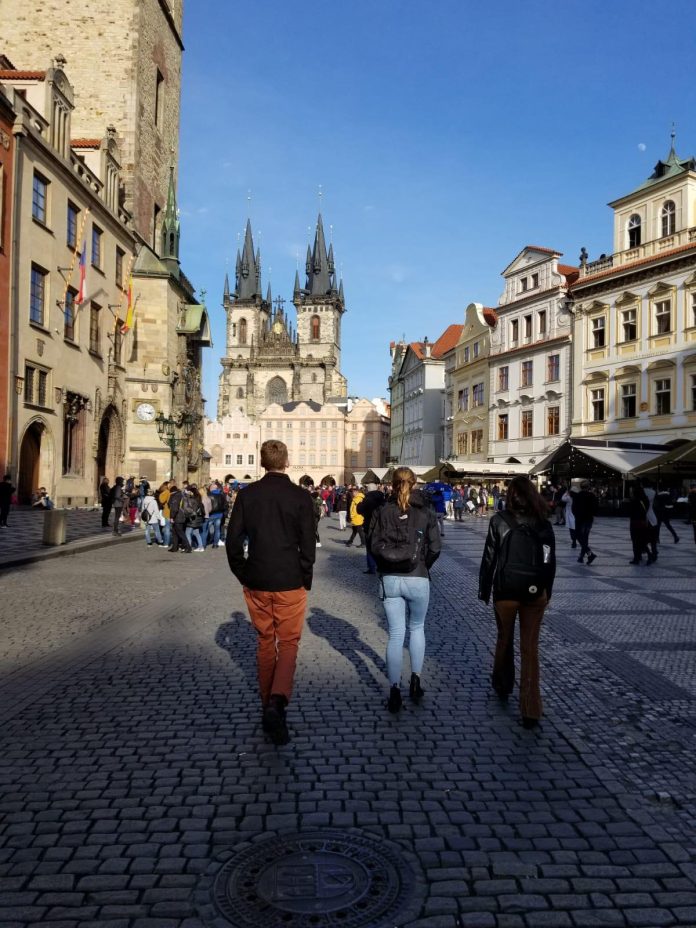 Almost two years ago after the onset of the COVID-19 pandemic, Transy was forced to bring home all students studying abroad and hasn't been able to send anyone anywhere since. The current students here at Transy who have actually had the opportunity to study abroad are few and far between, while those who have had to push back their trips semester after semester seem to be easier to find. Tatianna Verswyvel is a senior here at Transy studying International Affairs who had the opportunity to study abroad in the Czech Republic the spring semester of her sophomore year before returning to the states in March. As discouraging as times like these can make us feel about the possibility of traveling abroad, Tatianna had some incredible things to say, both about her own experience, and advice towards those who are feeling defeated now.
How has the uncertainty of the last few years impacted your view of your experience abroad?
"The last two years have really put my brief time abroad into perspective, mainly because I haven't felt as free or as spontaneous since I returned. There is an unprecedented amount of opportunity when you're exploring a new city, meeting people that don't share your same background, attending a new school. Perhaps even more than opportunity, I felt possibility. As cliche as it sounds, there was a sense that anything could happen. Now, when we have to keep our expectations low just in order to cope with the likelihood of disappointment, that feeling of possibility feels foreign. That's what I miss the most and what I'm most thankful I got to experience before the world completely changed."
Do you feel that your experience abroad has prepared you for graduation and your future plans?
"Despite the uncertainty that we live with today, my time abroad taught me that hard work is rewarded. I received a competitive federal scholarship that paid for that semester in full, an achievement which really enriched both my time abroad but also my overall confidence as a student and a person. In addition, excelling in my classes that semester at what is considered one of the best universities in Europe equipped me with confidence in my academic background and my overall preparedness to participate in the real world."
At this point, would you encourage students to try and study abroad in college?
"Without a doubt, study abroad is something to put yourself out there for. I know it's hard to rationalize in the current climate of uncertainty, but it really pays off. I'm not sure if studying abroad in the COVID era will provide the exact same sliver of magic that I feel lucky enough to have received, but it's worth finding out. Most importantly, don't be discouraged to travel for non-academic reasons. Most people whose study abroad plans keep falling through are due to their program's dependence on institutional aid and thereby institutional guidelines, but traveling on one's own is still very much a possibility."
Knowing that students at Transy who have actually had the opportunity to study abroad are few and far between, what would your advice be to students who have had to keep pushing their semesters back?
"I don't know whether this uncertainty is going away anytime soon, therefore I understand the emotional and mental strain that students in this position are undergoing. For this reason, I'd ask them to really evaluate their reasons for studying abroad and contemplate whether their goals can be met in different, albeit inferior ways. Like I said, traveling during COVID is not impossible. I spent two weeks in Europe this summer wearing masks and abiding by local restrictions and I still enjoyed myself. If your goal is to practice a second language, there are remarkable ways to do that remotely. If your goal is to meet new people or take classes that specialize in a subject/region that Transy doesn't offer, there are ways to do that. To me, it's worth exploring the possibility of studying abroad with a third party that does not answer to our federal and institutional guidelines, bearing in mind that your time abroad will probably not count towards the completion of your Transy degree. That's likely what I would do if I were in that position. Last thing I would say is that there is no arbitrary deadline or age by which you MUST achieve your international goals. The world, as far as I know, will still be there when COVID subsides, and opportunities to participate in educational experiences abroad will not end once you're out of college. People who claim that their biggest regret is not studying abroad in college, in my opinion, are not thinking big enough. As long as you set time and resources aside for these goals, they don't have to have an expiration date."
Studying abroad is a big part of the traditional college experience, and it is unfortunate that we continue to see this opportunity taken away from students due to the ongoing pandemic. Hopefully someday soon we will be able to see many students studying abroad and exploring the beautiful world we live in, but until then it's important to keep our heads up.