On Saturday October 1st, as you entered Ballroom A of the Central Bank Center, you could immediately see rows and rows of tables stretching to the back of the room, with dozens of people shuffling between them. On either side of the main path through the center of the room, there are hundreds of small containers, and inside each of them are a plethora of snakes, lizards, turtles, and other small creatures. The Kentucky Reptile Expo had returned to Lexington. 
The expo was full of people looking through all the tables, from veteran reptile collectors to young children who just wanted the opportunity to hold a chameleon. There were dozens of unique vendors, all setting up tables to sell various goods. The main attractions were, of course, the reptiles. They came in all shapes and sizes, from small leopard geckos in plastic containers, to Burmese pythons in large terrariums.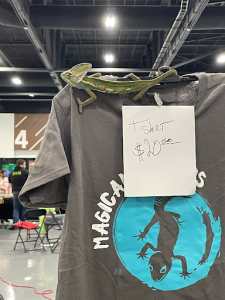 There was variety in the vendors as well. One man coming from a pet store in Ohio said he had been attending expos for 30 years. Another from Louisville said that they had decided to set up at expos now that COVID-19 restrictions are allowing them to happen again.
Even though they are the main attraction, there is more to the Kentucky Reptile Expo than just reptiles. Some tables were selling other small animals, such as scorpions, tarantulas, and mice (it is unclear whether the mice were being sold as pets or reptile food).
One table even had rabbits and guinea pigs for sale. "Those are our rescues," said the vendor behind the table, who was representing Scaled Sisters, a Cincinnati-based rescue organization. They continued by saying,
"With it being an exotic animal event, we do find a lot of people who want to adopt here. We just have to make sure we go through the correct protocol and make sure they're not food."
And it wasn't just animals for sale either. There was an entire wall of pet supplies, toys for children, and science books. One vendor was selling clothing with their children and a chameleon standing on a model t-shirt. The chameleon did not respond to questions over how much he was being paid for his modeling services. 
While there were a large number of people present, every vendor emphasized how much smaller this crowd was than those of previous years; the event has been obviously affected by the COVID-19 pandemic.
The event returned to Lexington in April after having to cancel all events in 2020. But vendors have been able to adapt. "We've done a lot more sales online than we usually do instead of meeting face to face with people," said the Cincinnati-based vendor. "But hopefully that will change soon."
The Kentucky Reptile Expo returns to Lexington on December 4th, and is typically held bi-monthly.