At 3:30 p.m. today in the Beck Center, Transylvania University and the Pioneers men's basketball team made a Team IMPACT "Draft Day" announcement by introducing the newest member of their team. Bentley Barber, a seven-year-old Lexington student, was "recruited" through Team IMPACT. There to welcome Bentley was Head Coach Brian Lane, both Transy's men's and women's basketball teams, and the cheer and dance teams. Bentley is the first player to sign with Transy through Team IMPACT.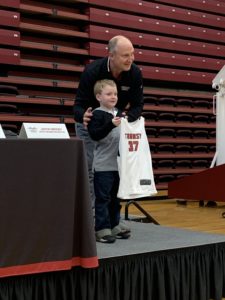 In an opening statement, Coach Lane proudly announced, "We have the opportunity to add someone to our team today that is going to make a huge impact. Everyone has a go-to guy, and as we were looking at Bentley…we just got two times as tough. Not only is he joining a basketball team, he is joining a community. Bentley epitomizes everything Transy stands for."
Bentley's favorite thing to do on the court is shoot. When asked about the team, Bentley with a smile on his face responded, "I like them. They're nice and know how to play ball…but they need to talk more."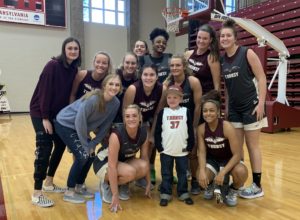 Team IMPACT is an organization that connects children battling serious or chronic illnesses with college athletic teams, forming lifelong bonds and life-changing outcomes. According to Team IMPACT, "through the program, a child battling illness becomes an official member of a college athletic team, attending practices, games, team dinners and more—where they serve not only as teammates—but as inspiration.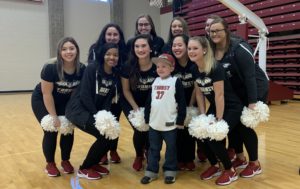 The program is not 'one size fits all,' it's tailored to each child's individual needs, and if you have a child in mind, they do not need to play (or love) sports to be involved in the program."
We can't wait to see Bentley at future Transy home games and events!