Congratulations, we've finally hit the most stressful time in the semester. Whether you have your stress handled or you're freaking out, we have some fun advice to help keep you somewhat sane.
The Library
The Transy library is a great resource, especially during finals week. They provide a quiet space to study, with the entire library transitioning into a quiet zone during finals week, beginning this Friday, in addition to extending their hours. The library also provides snacks throughout the week that are sponsored by the Library, the Office of Academic Affairs, and the Student Government Association, for students to grab as they study. Also, be on the lookout Tuesday for North Lime donuts and coffee provided by Student Wellbeing!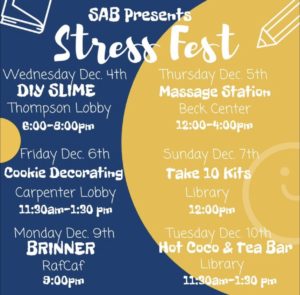 Stress Fest

Another great way students can de-stress on campus is with the Student Activities Board! They try to help Transy students manage their stress by hosting Stress Fest, which began Wednesday with the DIY slime activity and will conclude Tuesday with a hot cocoa and tea bar!
We spoke to some students around campus about how they de-stress during finals week. Junior Olivia Forester said that she is now on the bandwagon of using Tiktok and is now creating her own content to post. She has also encouraged some of her friends to join TikTok. When she started off, she mentioned that she brought followers on a site like http://tokupgrade.com/ to boost her profile, but now she enjoys posting for fun regardless of how many likes her videos get. Creating content for Olivia is a fun way to relieve the stress of her finals. Other students replied that they like to take walks, go to the gym, take naps, and look at Baby Yoda memes. Sophomore Will Hickey, one of our staff contributors, suggested: "Lo-fi hip hop music in the background" which is definitely relaxing. Check out this lo-fi playlist we put together for studying and relaxing.
We also spoke to our resident nurse, Carol Palmer about how to stay healthy during finals week. She suggested getting rest at night and studying during the day (outside when possible), avoiding caffeine after 4 p.m. and taking time for "a quick workout even if it is 10 minutes."
We here ate The Rambler wish everyone luck with their finals. Remember to stay hydrated, try to sleep when possible, and take a break every now and then. We are almost there!